21 Sep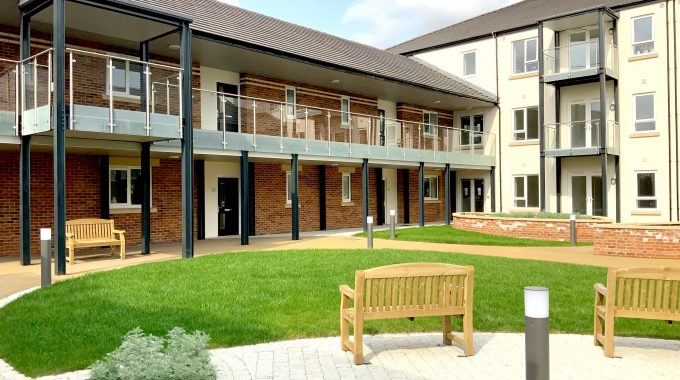 WHITBURN TOWERS COMPLETES
Tolent Living Ltd have completed the construction of a £4.9m affordable housing scheme in Whitburn for South Tyneside Housing Ventures Trust which has been designed specifically for residents aged over 55.
Designed by award-winning JDDK Architects Ltd, the Whitburn Towers development offers 36 one and two bedroom apartments for affordable. The two and three storey development, built on the site of a former sheltered housing complex, Croftside Court, which was demolished in 2017, will also include communal areas, including a large common room and landscaped gardens.
JDDK Project Architect, Otis Murdoch, explained the scheme, "We've designed Whitburn Towers in accordance to the 10 HAPPI (Housing our Aged Population: Panel for Innovation) principles, which stress the need for space and flexibility with maximum natural light amongst other ideas with the buildings forming a sheltered south-facing communal courtyard. The apartments are generously sized with large windows and are as open plan as possible to allow for future adaptation depending on individual residents' needs."
"The building is accessed either by the welcoming curved ramps through the landscaped communal garden or through a small entrance door leading to a dramatic triple height staggered stair, which pulls in natural light from above and leads visitors and residents up to the apartments via generously wide corridors which all have external views."
"The layout encourages circulation areas as shared spaces which offer connections to the wider environment encouraging interconnection, supporting independence and avoiding any feelings of 'institution'. All the apartments have access to private outdoor space (as well as communal) or have balconies with views over luscious landscaping or the coast and Roker Pier. It's been wonderful to see the project emerge, particularly the incredible views and variation of space when walking around the building."
Built on a slightly sloping site, the development steps down in the North east corner to sit comfortably into the surrounding built environment, particularly the single storey cottages on neighbouring Bowman Street with the new roofscape reflecting the traditional features found elsewhere in Whitburn village.
Peter Davidson, Chair of South Tyneside Housing Ventures Trust, commented, "On behalf of the board at South Tyneside Housing Ventures Trust, I would like to thank and acknowledge the tremendous work delivered by the team in the completion of Whitburn Towers. We are delighted with the outcome, It's an amazing development that also demonstrates great collaboration from our partners at South Tyneside Council and South Tyneside Homes."