23 Nov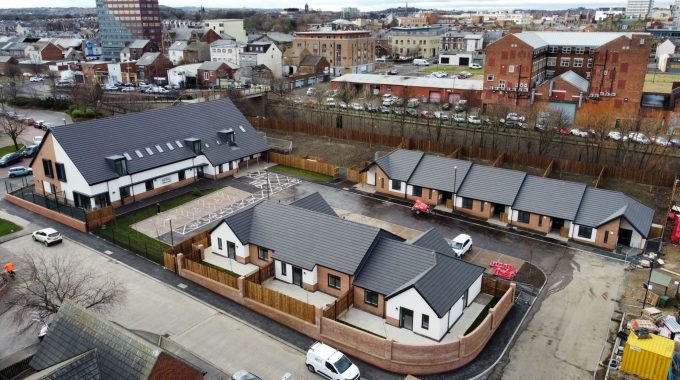 VALIANT CLOSE WINS NATIONAL HOUSING AWARD
Sunderland City Council's Valiant Close development has been named Best Housing, Regeneration or New Build Initiative at the Association for Public Service Excellence (APSE) Awards.
The innovative mixed development off Cork Street, Hendon, near Sunderland city centre, has redeveloped the previous Northeast Disabilities Resource Centre (NDRC) with a brand new facility and created 17 new bungalows, 16 of which are designed specifically for residents with disabilities, on the adjacent unused land.
The NRDC is a specialist day care centre which provides personal support packages to enable people with disabilities, many of whom are diagnosed with Cerebal Palsy and allied conditions such as a physical disability and/or a learning disability, to get the most from life. The original centre, a former children's nursery to which the charity relocated in 2005, is now replaced with a purpose-built two storey structure, containing reception area, treatment rooms, canteen and kitchen and event and activity areas to the ground floor with further activity rooms and offices to the first floor which overlook the adjacent bungalows.
The new bungalows, which will be managed by NDRC, have been designed externally to blend in with the traditional scale and form of the neighbouring housing in Hendon but with a contemporary twist. JDDK Project Architect, Otis Murdoch, commented, "The one and two bedroom bungalows are designed to fit in with the surrounding, traditional single storey Hendon architecture with hips at entrances, canopies over entrance doors, head and sill details, render, and contrasting gable treatments. They are also specifically for residents with advanced needs and are Category Three wheelchair accessible."
"The main NDRC building is designed with dropped eaves to fit in with the surrounding massing and to humanise the scale at the main entrance whilst the bungalows are oriented with mainly east west aspects to provide a good overall balance of sunlight to the dwellings and are set back from the adjacent noisy road with acoustic fencing providing further privacy. The development provides 23 parking spaces, including spaces for mobility vehicles and two minibus spaces within the central courtyard area and overlooked by the bungalows."
In addition to winning an APSE Award, which recognises frontline services provided by UK local authorities, Valiant Close was also commended in MJ (Municipal Journal) Awards for the 'Best Social Housing Initiative' in recognition of its efforts to deliver affordable homes for rent for residents across the city and shortlisted in the Inside Housing Awards in the Best Development and Best Healthy Homes Development categories, as well as the council officers behind the programme being shortlisted for the Best Development Team award.
Valiant Close is just one part of Sunderland City Council's Housing Delivery and Investment Plan (HDIP) – a £59m programme launched in 2020.
Councillor Kevin Johnson, cabinet member of Sunderland City Council commented, "It's wonderful to see Valiant Close, and indeed the brilliant team behind the HDIP recognised in these awards. We have made such fantastic progress since this plan was launched and to see this acknowledged in these prestigious awards is vindication of that, pitting us alongside the best in industry."