14 Oct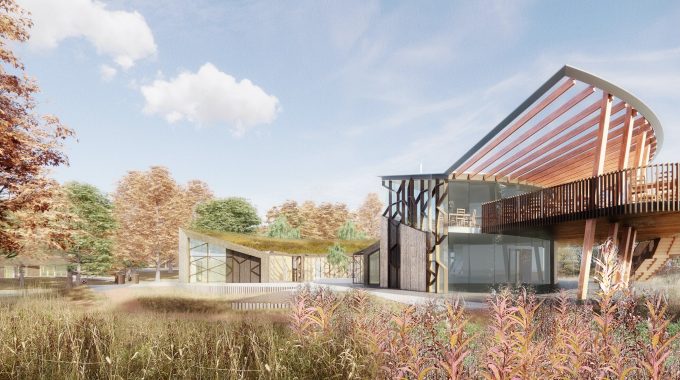 UNANIMOUS PLANNING APPROVAL DECISION FOR NORTHERN ROOTS
Oldham Council Planning Committee have given unanimous approval to the hybrid planning application for Northern Roots which is creating the UK's largest urban farm and eco-park near Oldham town centre. The planning permission includes detailed design proposals for a Visitor Centre and Learning Centre from Newcastle-based JDDK Architects.
Set in the heart of Oldham, the project will create a unique new community asset and visitor destination, offering a range of new facilities and activities whilst also creating jobs, training and business opportunities for local people. In addition to protecting and enhancing the habitat, biodiversity and environmental value of the 160-acre site, the project will also support the health and wellbeing of local residents and communities.
The Visitor Centre and Learning Centre have been designed to blend with the surrounding natural environment and nestles into the woodland edge combining various elements of the initial design proposals which were amended following a lengthy period of public consultations.
The Learning Centre site sits within a woodland area to the southwest of the hybrid application boundary and will house a reception, teaching kitchen and breakout space, staff facilities, multi faith prayer and meditation space, classrooms, toilets and a bunkhouse. There will also be communal outdoor space for outdoor learning.
Cllr Abdul Jabbar, Deputy Leader and Cabinet Member for Finance and Low Carbon, said, "I'm delighted colleagues have approved the hybrid planning application, which will pave the way for Northern Roots to really fulfil its potential to benefit communities in Oldham and the North West."
JDDK Architects have worked on a wide range of award-winning visitor centre projects across the UK, which are similarly located in sensitive greenbelt and world heritage sites such as The Sill in Northumberland, the Sherwood Forest Visitor Centre in Nottingham, and the RSPB's Saltholme International Nature Reserve on Teesside.