19 Dec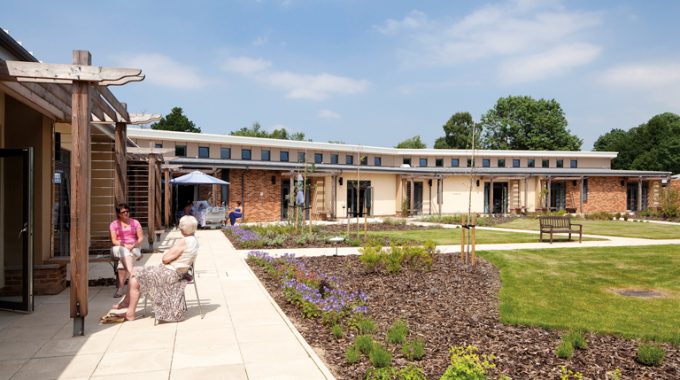 Timescale no barrier to JDDK hospice improvement projects
The tight timetable imposed by the Department of Health's 2013 Capital Funding Grant programme to fund improvements to the physical environment of hospices has proved no barrier to Newcastle-based architects, Jane Darbyshire & David Kendall (JDDK) Ltd who currently have five projects on site.
Applications from hospices were required to be submitted by 5 November with projects to be completed by end of March 2014, necessitating many hospices to begin the design process before they knew if their application would be successful. The Department of Health eventually received some 183 applications with a total requested amount of £91m for their  £60m fund, which was administered by the Help The Hospices grant team, with the majority of applications being for projects of £500 000 to £750,000 in value.
JDDK Project Architect, Stuart Franklin, explained the practice's role, "We have worked extensively within the hospice sector and were approached by our clients, St Oswald's Hospice in Newcastle for two separate schemes and Marie Curie Cancer Care for projects at their hospices in Newcastle, Hampstead and Bradford. The guidelines issued by Help the Hospices made it pretty clear that limited budget schemes would be favoured, allowing the grant to be widely dispersed, so whilst the five schemes were very different in detail, they were all designed to improve patient services but within a fairly small budget."
The two schemes at St Oswald's Hospice in Newcastle have improved the Bereavement Suite by reorganising internal spaces and a small extension to give dignity and privacy to families, whilst an infill in the adjacent Children's Unit has created a therapy suite for sensory activities and a 'secret' sensory garden in the surrounding external space.
At the Marie Curie Hospice in Newcastle, a £312,000 contract will see the internal refurbishment and an extension to the patient dining room which will be integrated with the staff coffee room although screened by glass panels. The new facility will be finished in a completely different palette to the rest of the hospice and opening onto a central courtyard, creating a complete break from the normal hospice environment for patients, visitors and staff.
In Hampstead, the £660,000 refurbishment of the 3rd Floor Day Unit section of the Marie Curie Hospice will create a 'streetscape' off which treatment rooms, a gym and lounge areas lead off with borrowed light from the glass partitions in these areas.
Finally, an intense £570,000 refurbishment project of Marie Curie's Bradford Hospice will bring patient bedrooms and en-suites in-line with latest recommendations whilst a general internal refurbishment will breath new life into the whole floor encompassing improvements and repairs to the glazing, heating and ventilation systems.
Stuart Franklin concluded, "The five projects will all improve patient services significantly, punching way above their weight in terms of capital investment. It's a very tight programme for all the projects but both St Oswald's and Marie Curie have shown their confidence in our schemes to have been able to submit their application and be prepared to move very quickly to see the projects completed within the specified timescale. We're delighted to be  working with both organisations with whom we enjoy very good working relationships."
The latest phases of work at St Oswald's Hospice are the 9th and 10th project JDDK have undertaken at the Gosforth site, whilst the practice recently completed a new £13m hospice for Marie Curie at Solihull earlier this year and have had their £2.3m refurbishment work at Marie Curie, Edinburgh, highly commended at the National Building Better Healthcare (BBH) Awards in London.