14 Nov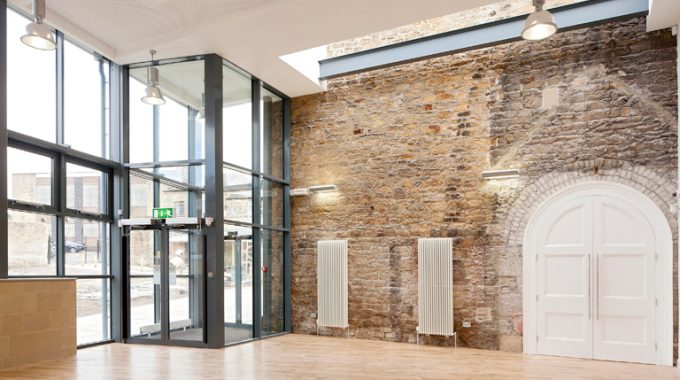 The Witham to Spearhead Barnard Castle Regeneration
An ambitious restoration of historic buildings and new build project within the centre of Barnard Castle has been officially handed over to Durham County Council by Newcastle-based architects, Jane Darbyshire & David Kendall (JDDK) Ltd, designed to spearhead the regeneration of Barnard Castle town centre.
The £2.3m Witham and Library Development Project, managed by Barnard Castle Vision, Durham County Council and The Witham Hall Ltd, has seen the refurbishment of the Grade II listed Witham Testimonial Hall. Originally constructed in 1846 as a memorial to local philanthropist, landowner and geologist, Henry Witham, the Hall and the adjacent Testimonial Building and Music Hall have been completely refurbished with new studio units created along Hall Street to form a thriving new artistic quarter for budding local artists.
In addition, a new 'link' building has been built which will become an informal meeting point and public foyer for the 200 seat event space in the Music Hall. Finally, the 1970's library building has been refurbished with the addition of an additional storey to include new council offices and a customer access point as well as the continued library service.
The project has had its share of challenges as JDDK project architect, Adam Vaughan, explained, "It's always a challenge to successfully introduce new build elements in a sympathetic manner into a historic setting but it was particularly so given the restricted site we had in Barnard Castle but the restoration has created superb spaces such as the original Testimonial Room which have now been brought back to life."
Durham County Council's Regeneration Projects Manager, Chris Myers, added, "The restored Witham Hall will form the artistic new cultural, commercial and community heart of Barnard Castle which will bring enormous and continuing economic benefits to the town, the local community and visitors. The Witham will provide a range of facilities for local businesses, retailers and community groups and we're delighted with the major part that Adam and the whole JDDK team have played in bringing the project to completion."