14 Feb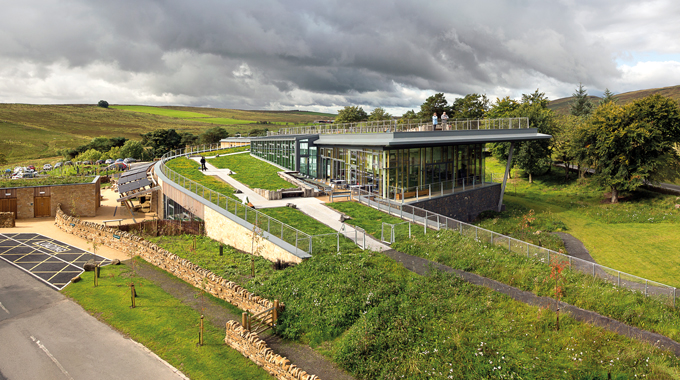 The Sill Shortlisted For National Planning Award
Northumberland National Park Authority's The Sill: National Landscape Discovery Centre at Once Brewed has been shortlisted for a prestigious national RTPI (Royal Town Planning Institute) Award in the Excellence in Planning for Heritage and Culture category.
The Sill opened to the public on July 29th and has since received acclaim from many of the 96,000 visitors who have visited the centre in its first seven months. and Northumberland business. The building has also been the result of a truly local enterprise, with more than 3,000 local residents taking part in the extensive community consultations during the design period and 90% of the construction employment coming from within the region.
For many, the most striking feature is the Whin Sill grass roof, planted to replicate the unique natural grasslands of the surrounding area, which sweeps gently upwards, giving visitors a bird's eye vantage point across one of the UK's most magnificent landscapes and the UNESCO World Heritage Site of Hadrian's Wall.
JDDK Project Architect, Alison Thornton-Sykes commented, "The whole team, including planning consultants Cundall, are absolutely delighted to have been shortlisted for this prestigious award – whether The Sill wins or not, it's a testament by planning professionals to the incredible amount of careful planning and design that went into not only the actual building but also the whole concept of the Landscape Discovery Centre."
Tony Gates, Chief Executive of Northumberland National Park Authority, added, "We are thrilled to be shortlisted among these outstanding projects in the Heritage and Culture category. "
"We worked extremely hard to bring this iconic and inspirational project to life. The Sill is the single most significant initiative to be undertaken in rural Northumberland in a generation and is transforming how people engage with landscape, nature and the great outdoors. The Sill gives Northumberland and the rest of the UK a new world-class facility and visitor experience in the heart of Hadrian's Wall country. From the locally sourced materials it's built from to its very purpose as a National Landscape Discovery Centre, The Sill is the perfect gateway to Northumberland for people of all ages from all walks of life to come and explore.
"From the outset we were determined that the building would be of and from the landscape and would be shaped by both the local community it lives within and the people who would use it. I believe we have been able to demonstrate how a modern building can be delivered in the most sensitive landscape and can in fact enhance the environment within which it sits."
The RTPI winners will be announced during a ceremony at Milton Court Concert Hall, next to the Barbican in London, on May 24.