18 Nov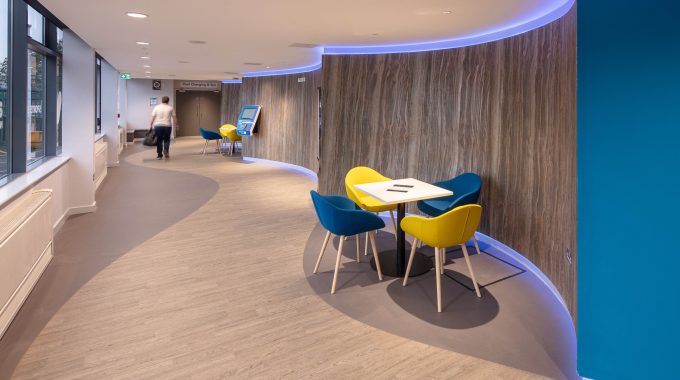 Team Effort Completes Blyth Sports Centre Refurbishment
Active Northumberland's £5m refurbishment of Blyth Sports Centre is receiving rave reviews from the people of Blyth after the third and final phase of the two year project completed in October.
The project, with design and project planning by Newcastle-based JDDK Architects, was split into three phases to minimise disruption and keep the Centre open to as many of the local community as possible but was severely affected by the Covid pandemic and subsequent lockdown and social distancing restrictions.
JDDK Associate Director and Project Architect, Nicky Hodgson, commented, "The initial brief from Active Northumberland was to keep as much of the Centre open to the public as possible whilst there was ongoing construction work, hence the initial phasing of the project. Nobody, of course, could have predicted the pandemic so what was an initially challenging scheme became even more so, but there's been a fantastic effort by the whole project team to complete the scheme which altered and evolved over the two years. The main contractor, Brims Construction, and their Site Manager, Peter Swinbanks, were a pleasure to work with and made every effort to be more than accommodating during the difficult Pandemic working conditions."
The first phase of the scheme, the refurbishment of the Swimming Pool and changing facilities, was completed before the Coronavirus pandemic, opening in February 2020. The second phase, included the new gym and fitness area, two new fitness studios, new spa facilities, including a Jacuzzi, Sauna, Steam Room, new wet and dry changing rooms and new classrooms which will be used by the county council's Learning & Skills Service to provide a range of learning opportunities for the local community.
The third and final phase of work has created a re-designed modern and welcoming reception area, soft play areas and extended cafe offer with linking corridors providing interesting spaces on the ground floor with a dedicated cycling studio and 'party' spaces to the first floor, again with curving corridor spaces.
Nicky Hodgson continued, "The whole project has been about improving the customer experience and extending the range of facilities on offer to the people of Blyth. In addition to purely sports facilities, the Centre now offers a really attractive and luxurious centre for the community who can enjoy the space without visiting purely for sport."
"It's been a hugely satisfying project for the whole team who have pulled together to overcome the various challenges of the Pandemic. Whilst the eventual programme prioritised the public, the facility staff and the construction team's safety, it was this team effort that has made the project such a success.
Funded by Northumberland County Council, the refurbishment is part of an ambitious £65 million countywide investment programme to upgrade and transform sport and leisure facilities which includes the building of new leisure centres in Berwick, Morpeth and Ponteland and major investment to refurbish and revitalise centres in Newbiggin and Hexham.
Leanne Beattie, Operations Manager of Active Northumberland, added, "The Centre looks amazing and I can't believe how many people have been blown away with the overall look and feel of the new areas with so many comments over the past couple of weeks about how great it looks and how unrecognisable it is."
"The centre has been transformed with some fantastic exercise facilities and services that will help enhance the health and wellbeing of the local community, whatever their age or fitness level. It was a real pleasure working with JDDK and the team and I think we've certainly achieved what we set out to do. "