03 Jan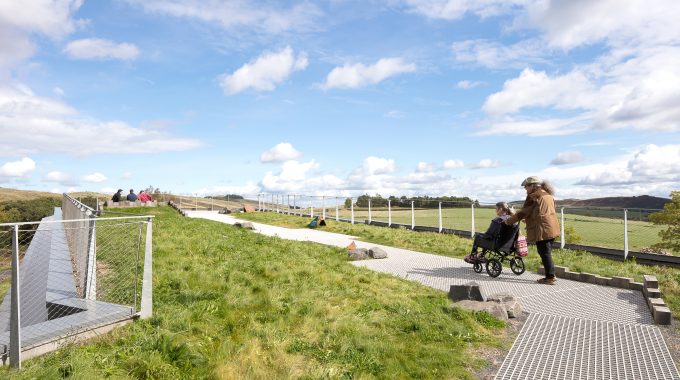 Selwyn Goldsmith Recognition For The Sill
The Civic Trust Awards Scheme has announced that Northumberland National Park Authority's The Sill: National Landscape Discovery Centre at Once Brewed is one of four schemes out of 240 nationwide to be winners in this year's prestigious Selwyn Goldsmith Awards for Universal Design. Earlier this year, The Sill won a NE regional RIBA Award and was highly commended in the RICS NE Awards.
Named after the architect and founding figure of universal design, the Selwyn Goldsmith Awards recognise, "…places that work for all people, irrespective of age, ethnicity, gender or ability and schemes that have created an environment or building that is responsive, flexible, welcoming, easy to use and occupy; allowing all to use with dignity and equality. To be considered for an award, the project should have gone beyond the building regulations, as a minimum using best practice guidance, putting people at the heart of the project and showing exemplar design."
Designed by Newcastle-based JDDK Architects and partially funded by the Heritage Lottery Fund (HLF) through a £7.8 million grant made possible by National Lottery players, The Sill opened to the public in the Summer of 2017 and has since received acclaim from more than 200,000 visitors who have visited the centre in its first seventeen months and Northumberland business. The building has been the result of a truly local enterprise, with more than 3,000 local residents taking part in the extensive community consultations during the design period and 90% of the construction employment coming from within the region.
For many, the most striking feature is the Whin Sill grass roof, planted to replicate the unique natural grasslands of the surrounding area, which sweeps gently upwards, giving visitors a bird's eye vantage point across one of the UK's most magnificent landscapes and the UNESCO World Heritage Site of Hadrian's Wall. Importantly for access, the roof is at a gentle 1:21 slope to facilitate wheelchair access whilst the building also has Changing Places facility for visitors who cannot use standard accessible toilets.
A typical feedback message received by The Sill from Holly Forsyth read, "Just wanted to message you and tell you that I took my 94 year old gran out to the Sill today. She absolutely loved it, and hasn't stopped taking about it all evening. She grew up on a farm but now struggles to walk, and more recently uses her wheelchair. It's been almost impossible to take her anywhere scenic and actually be able to get out of the car. I found it so easy get her round the building in the chair, accessible washroom was fab and she was totally thrilled to be on the roof! Just thought the team would like to see a picture of the building making a 94 year old countryside girl very, very smiley!"
JDDK Project Architect, Alison Thornton-Sykes commented, "The whole team are absolutely delighted and extremely grateful to have won this prestigious award. At the heart of our design for The Sill, and other visitor centre projects, has been a priority to enhance and maximise the visitor experience, with the building becoming a physical manifestation of the client's aspirations which attract, excite and inspire people, acting almost as a launch pad with which visitors engage to start a journey of exploration."
"The Sill is set in an incredible landscape so it was a challenging brief to create this iconic building on a restricted site where we wanted to reflect not only the rugged nature of the immediate landscape but also the superb and unique setting within the Hadrian's Wall World Heritage Site."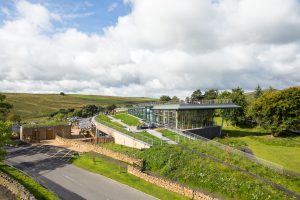 Tony Gates, Chief Executive of Northumberland National Park Authority, added, "Northumberland National Park Authority is absolutely delighted that The Sill: National Landscape Discovery Centre has been judged worthy of a Selwyn Goldsmith Award for Universal Design. Selwyn Goldsmith put people at the centre of the design process and so to be recognised as worthy of such an award is humbling.
"This is a landmark project for the UK, building a national centre in a National Park and a World Heritage Site was always going to be a challenge. We needed a building that not only respected the landscape but enhanced it, and most importantly, be accessible and welcoming to a diverse range of people and it is great to see that what we've achieved through this iconic building has been recognised.
"In JDDK, we could not have worked with a better architect. Alison Thornton-Sykes engaged with us as the client, the local community and our many partners from the outset and has delivered a building which we are extremely proud of. Conceived, designed and built in the North East we all have a lot to shout about. We also extend our thanks to Sir Robert McAlpine, who constructed The Sill, and of course to national lottery players who provided a large part of the funding to make it happen.
"Since The Sill opened, we have consistently received positive feedback on the building design from visitors, who are very taken with its innovative design and how the building takes its shape and materials from the surrounding landscape. With visitors ranging from school groups learning in our classrooms, to three or four generations of one family enjoying our accessible roof walk together, The Sill has provided the perfect gateway to engage the unique landscape of Northumberland National Park and the surrounding area."
The 60th Anniversary Civic Trust and Selwyn Goldsmith Awards Ceremony will take place on Friday 1st March 2019 at the Imperial War Museum in Trafford Manchester.