12 Sep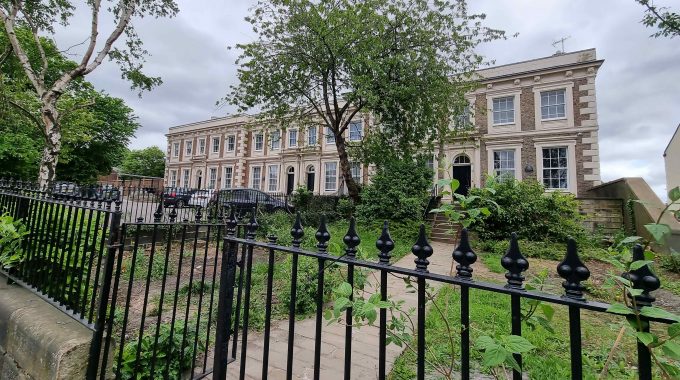 SAVING THE PAST FOR THE FUTURE – THE ROLE OF CONSERVATION ARCHITECTURE
The importance of the heritage significance of the UK's historic built environment is becoming increasingly recognised with more than one in five buildings in Britain pre-dating 1919. However, to safeguard this rich heritage for future generations requires the specialist skills of conservation architects who are experienced in not only preserving historic buildings but also giving them new life and added value by refurbishing or re-purposing them to meet modern needs, using appropriate research, construction methods and materials to protect and enhance our built heritage.
Samantha Dixon, Project Architect with Newcastle-based JDDK Architects, has recently gained accreditation as an RIBA Conservation Architect, one of just over 350 accredited architects nationally. She explains what value a conservation architect can bring to projects.
"It's taken me six years of additional specialist training, including research, study, courses and project experience to complete the requirements to become an RIBA Conservation Architect – the training is rigorous, but it does give clients the reassurance that their unique structures are in safe hands when it comes to work on them and that any work will not harm the building or its heritage significance. It's not just about protecting structures but also about providing clients with the right advice to achieve their objectives, mitigating risk and adding value to their heritage asset. We need to ask the right questions and understand the client's objective whilst also safeguarding the historic integrity of the building."
"From such discussions will come an assessment of opportunities and constraints based on both on and off-site research and analysis of the buildings or site's history.  A proposal of repairs and sensitive alterations or interventions will follow. The delivery process of this proposal is equally important to choose and manage a suitably skilled team of consultants and craftsmen that understand the sensitive nature of the work – all building professionals are trained in and understand 21st Century materials and technology, but few are trained to understand their older equivalents."
A bedroom of Beeswing House near Rothbury before restoration.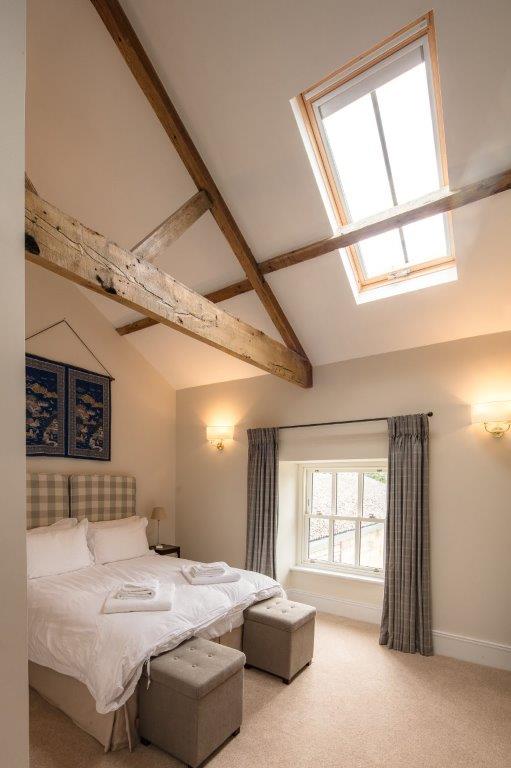 The same bedroom of Beeswing House near Rothbury after restoration.
"Each project will present its own unique challenges, of course, but Conservation Architects understand and have demonstrated competency through the accreditation process in the 14 specialist skill areas detailed in the ICOMOS (International Council on Monuments and Sites) Guidelines. These cover everything from initially identifying a structure or site's emotional, cultural and use significance, its setting and its history, understanding the materials and technology originally used in its construction, diagnosing the causes of any decay, creating sensitive design proposals in accordance with planning regulations that recognise and respect the unique qualities of the building and its setting, to giving specialist advice on maintenance."
Samantha's presentation for accreditation included four case studies which detailed her work on four very different projects. At Bentwick Terrace in Newcastle, she led the JDDK team that has been responsible for the refurbishment and reconfiguration of what was originally a terrace of four Victorian homes built in 1855 and is now owned by the Changing Lives charity into 36 one-bedroom self-contained units, in a move away from hostel type accommodation.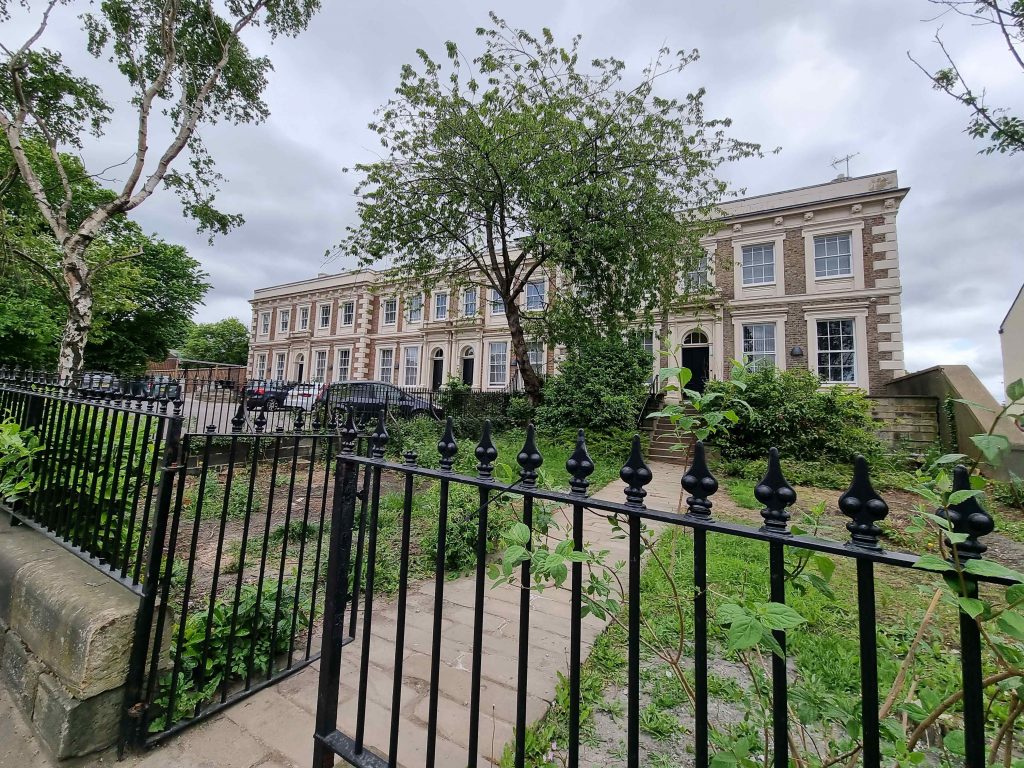 The restoration of Elliott House has created 36 self-contained one-bedroom apartments for the Changing Lives charity.
The challenge of this project was to deliver a scheme and layout that would achieve the clients' aspirations whilst respecting the significance of the original building. Samantha undertook extensive research in order to uncover the heritage significance of the building, not only in its architectural merits but in its communal, historical and evidential values. The building stands as a record of a time of considerable growth and expansion in Elswick during the 19thC, fueled by industrialisation and commercial growth. Grand Victorian properties such as Bentinck terrace demonstrate the affluence and prestige of the area at that time.
During her research Samantha visited the Newcastle City Archives for old plans, whilst the original plans pre-dated records, there were old building controls records that she was able to analyse and piece together to form the original layout. The proposals for the new scheme aimed to retain and restore the layout as closely to the original layout as possible and were welcomed by the Newcastle City Council's Planning and Conservation team, as Simon Parkin of Newcastle City Council, explained,  "Newcastle City Council's Conservation team welcomes development schemes that sensitively repurpose and revitalise listed buildings such as nos. 1-4 Bentinck Terrace based on a clear understanding and appreciation of what contributes to their special architectural and historic interest."
"The applicant and their design team worked closely with Conservation and Planning officers throughout the project and succeeded in preserving and, in a number of instances, better revealing the significance of the listed building while creating modern living spaces. The effort made to repair and restore much of the fine decorative plasterwork found throughout the buildings has been particularly noteworthy. "
At Beeswing House near Rothbury, the challenges were of a more practical nature to restore a 19th Century derelict former stable block into a luxurious and highly energy efficient home. The project involved a deep retrofit of the historic building using natural wood fibre insulation and renewable energies such as air source heat pump.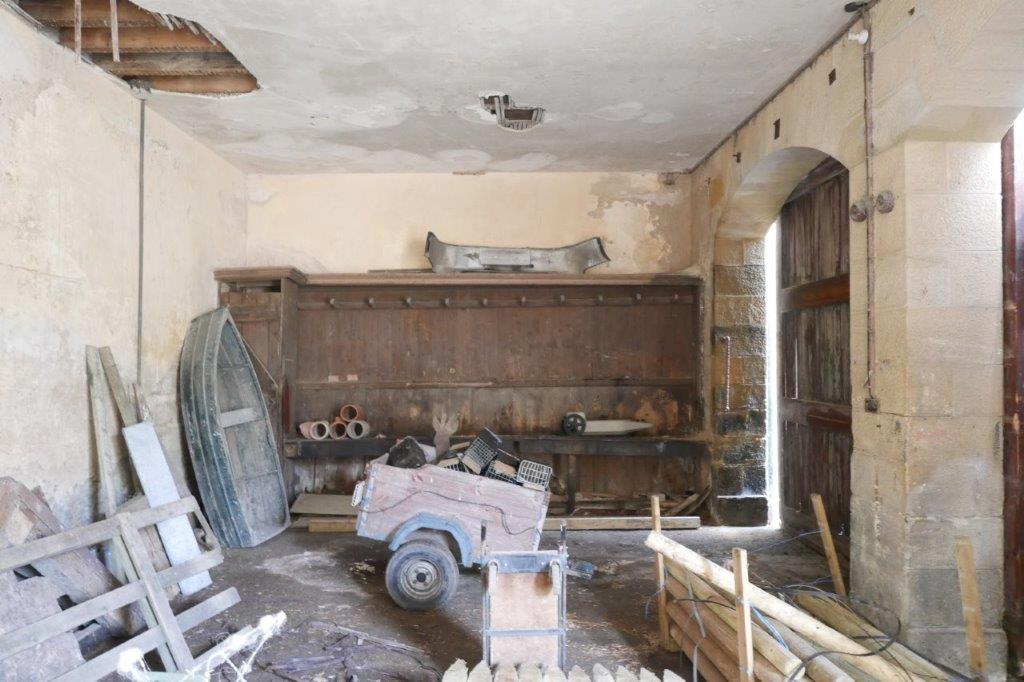 The lounge of Beeswing House near Rothbury before restoration.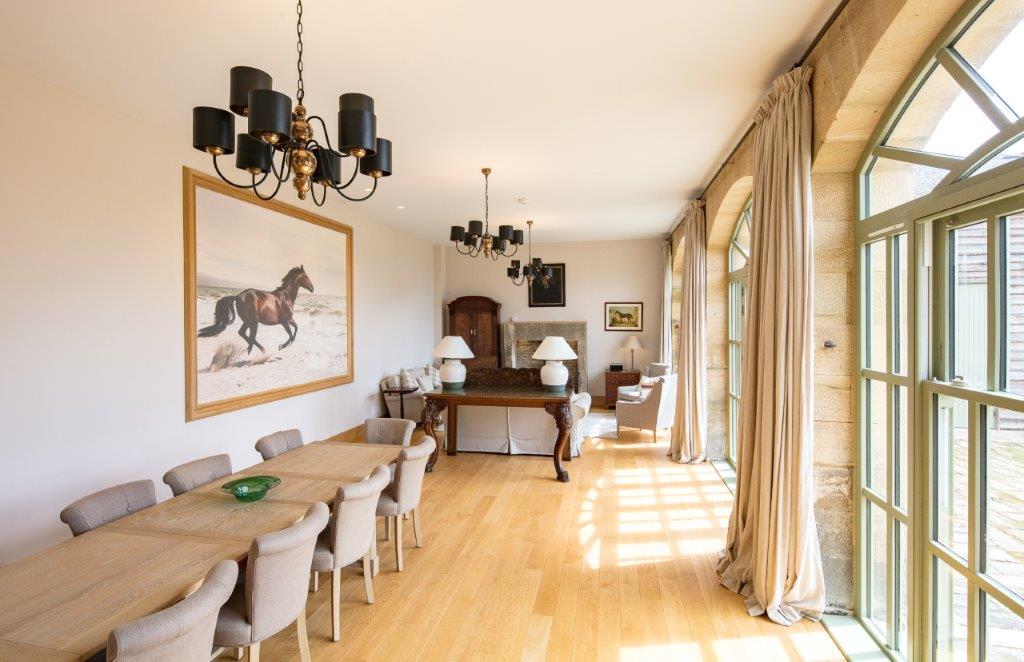 The lounge of Beeswing House near Rothbury after restoration.
The integration of wall insulation into a solid wall construction in a traditional building, is a particular challenge due to the vapour permeable construction that absorbs moisture and allows moisture to evaporate through the fabric. The use of modern non permeable insulation methods is not compatible with traditional construction and results in moisture getting trapped within the fabric and causing interstitial condensation which over time can lead to deterioration of the fabric. After much research and a robust moisture risk analysis by the manufacturer a wood fibre insulation was selected at a thickness that was compatible and provided a risk-free level of insulation to the building.
Samantha's third case study was on the environmental upgrade project to the external environment of the Byker Estate. Originally designed by internationally renowned architect, Ralph Erskine and constructed mainly during the 1970's, the estate, bounded by the iconic Byker Wall to the North, was unique, not only in its materials or building technology, but in the way it was designed and constructed in conjunction with the local community. The intervening 50 years, however, has seen the local community's requirements change so the challenge has been to reconfigure the external environment to reflect this whilst still keeping true to the spirit of Erskine's original design.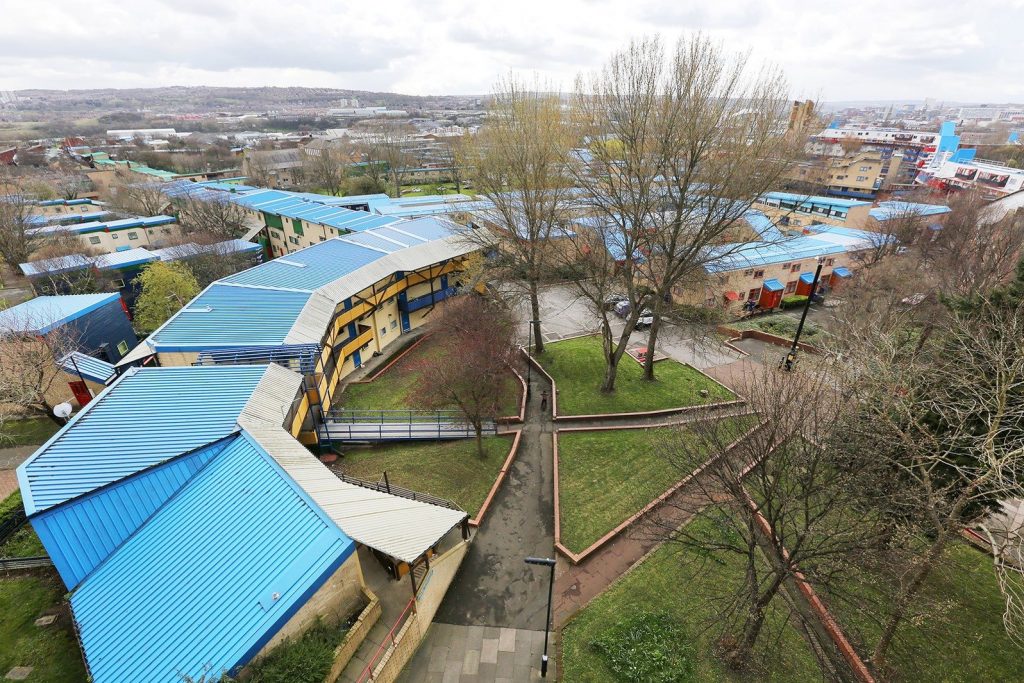 The Byker Estate.
Samantha concluded, "Conservation architecture ensures that our built environment is protected for future generations whether this be ancient monuments or more modern developments like Byker. We have an enormous variety of buildings in and beyond the local region which need protecting and are perfect for reconfiguration for other purposes and are looking forward to working on these."