19 Oct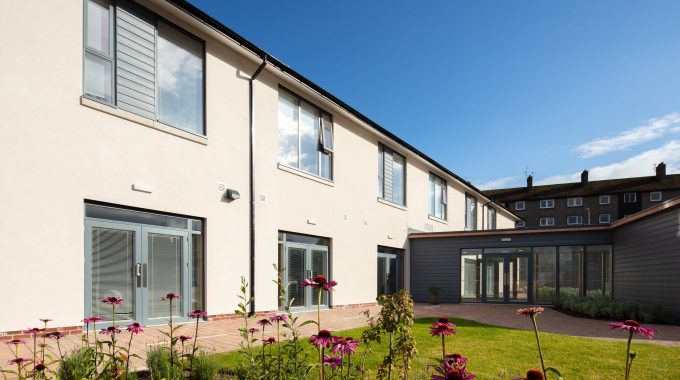 REFURBISHMENT OF SUE RYDER NEUROLOGICAL CENTRE ABERDEEN
The logistical challenges of the pandemic and the 'lock-down' of Aberdeen over most of the Summer, meant that Newcastle-based JDDK Architects Ltd have been unable to photograph and publicise their £3.5m refurbishment project for the Sue Ryder Neurological Care Centre, Dee View Court in Aberdeen about which discussions had started in 2014 with planning permission secured in 2017, until this Autumn.
The original Sue Ryder Neurological Centre at Dee View Court in the Kincorth area of Aberdeen, opened in 2003, as Scotland's only purpose-built neurological centre providing care and support for residential patients and temporary respite and outreach support for others with degenerative life-changing conditions affecting the brain and nervous system. However, with only 20 residential spaces in single rooms and a constant waiting list of over half that number, Sue Ryder were keen to develop the existing site, where they had close contact with the local community, by extending their facility to increase the number of rooms.
JDDK Project Architect, Sam Dixon, explained, "The existing centre was a single storey building based on the concept of six self-contained 'houses' with four en-suite single bedrooms and a communal lounge and kitchen. The refurbishment project has provided an additional single storey extension, and a new build two storey annex linked by a glazed corridor containing a conservatory."
The new building contains six high dependency en-suite bedrooms on the ground floor with a further six supported living units on the first floor, allowing independent living for residents but with the security of support from the centre if required. Large patio doors providing access into the gardens and also doubling as fire escape have been provided in each ground floor bedroom to create light airy spaces with a connection to the outside. The building is set into the existing sloping bank and appears as a single storey building from the surrounding residential properties.
Sam Dixon continued, "This fairly long design development period is not unusual for new capital projects within the charity sector, where decisions regarding significant construction contracts need to be delicately balanced against likely income and the potential to borrow. With Sue Ryder staff, we held public consultations in June 2015 to gain local opinion and again in November 2016 to seek comments on the scheme. The overall consensus was very positive with the planning decision in 2017 followed by a considerable period of further consultation and fund raising before construction could start in July 2018 and completing in November last year."
"It was a challenging project with construction work carried out side by side with an existing and operational neurological care centre, but the end result has been worth the wait with Sue Ryder confident that their neurological care centre in Aberdeen not only meets their current requirements, but is flexible enough to allow them to provide high quality care for the foreseeable future."
Pamela Mackenzie, Executive Director of Neurological Services at Sue Ryder, added, "It was a pleasure working with JDDK Architects on the design of Sue Ryder Neurological Care Centre Dee View Court.  The professionalism and expertise that they brought has been very welcome as we took on the task of the neurological care centre. It felt like a very comfortable partnership for us, with mutual respect on both sides."