15 Nov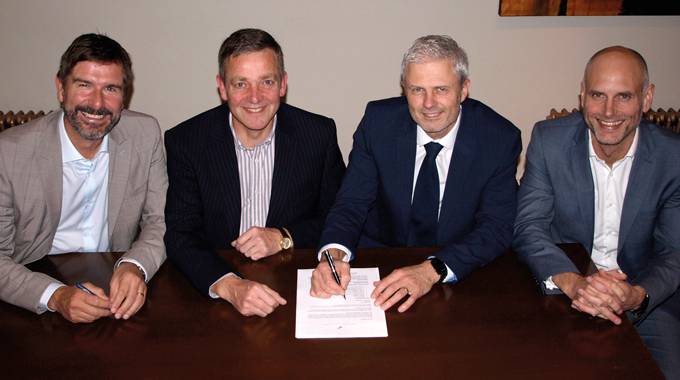 JDDK in Design Partnership for Proton Beam Therapy Project
Newcastle-based architecture practice, JDDK Architects, have signed an agreement with Desco and Fairhurst consulting engineers to form a new design partnership, DFJ Designs, purely for work for Rutherford Estates, the subsidiary of Proton Partners International, the company bringing high-energy proton beam therapy to the UK. The three companies have already worked closely together for Proton Partners International in the design of its oncology centres in Northumberland, Reading and Liverpool.
Proton Partners International is building four UK oncology centres in total, the first of which has recently opened in Newport, South Wales, and the other three centres are currently under development. Other UK sites are also under consideration.
Each cancer centre will offer proton beam therapy in addition to conventional treatments such as chemotherapy, traditional radiotherapy, diagnostics, imaging, and wellbeing services. Dedicated supportive care will also be available to patients. The company's first centre in South Wales is currently offering conventional cancer treatments and proton beam therapy will be available next year.
Kevin Turnbull, director of JDDK Architects, commented, "We are delighted to have been appointed on a long-term strategic partnership contract for Proton Partners International and to have now been confirmed as the incumbent team to deliver all future centres for the company across the UK.
The announcement, made at JDDK's 30th Birthday celebrations, follows the successful collaborative working demonstrated on the first two projects in Northumberland and Reading, which are currently progressing well on site and, more recently, the third project in Liverpool, which is due to commence on site in January.
The design and construction of such heavily serviced and precisely engineered centres, which are at the very cutting edge of medical technology, provides a multitude of technical challenges to ensure the effective and efficient operation of the completed buildings. These buildings include not only the cyclotron for proton beam therapy, but also linear accelerators (linacs) and facilities for more traditional MRI and X-Ray scanning, as well as chemotherapy suites.
The cyclotron and linac equipment is housed within specially constructed vaults; the separation of the vault and plant areas from the patient areas is a critical issue in the design, as are the logistics of installing the huge pieces of equipment that are required within each centre. However, JDDK's design principle of putting the patient at the heart of the process, remains constant, and in each centre the relationships and configurations of the individual elements of the building have been thoroughly tested with clinical staff to ensure that the patient flow works throughout the building and puts visitors at ease.
Mike Moran, chief executive officer of Proton Partners International, added: "We're really pleased to announce that we have appointed DFJ Designs as our partners. Over the past year, we have been working closely with them on the design of three of our centres and they have an extremely high-quality and innovative approach."
"The patient experience is paramount and the design of our centres plays a central part in that. I, therefore, look forward to continue working with DFJ Designs in order to make our vision of bringing the best cancer care to more locations across the country a reality."