05 Mar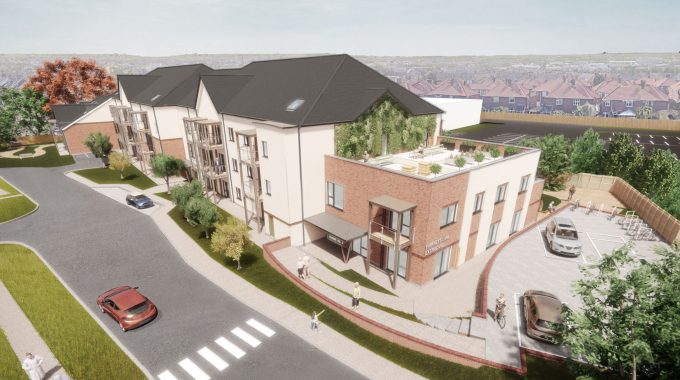 PLANNING PERMISSION FOR NORTH SHIELDS EXTRA CARE HOUSING
Following a period of public consultation, North Tyneside Council have granted planning permission to Sea Island Developments Ltd for the construction of a 51 bed supported living development for older people to be built on brownfield land off Hawkey's Lane in North Shields.
Designed by Newcastle-based JDDK Architects, the new £6.5m development will be built next to the new Aldi store and car park and behind the Grade II listed North Shields Ambulance Station. The vacant site was originally the site of the former Tynemouth Victoria Jubilee Infirmary and, more recently, the location of a previous care home.
JDDK Director, Kevin Turnbull, commented, "We have designed the home specifically to meet the needs of typically older residents who enjoy independent living at present but whose needs may change requiring greater levels of personal care and support services. The home includes on-site catering, communal facilities such as a shared activity room, laundry, external terraces and a break-out space in addition to facilities for the 24 hour support staff."
Internally, each apartment is self-contained with an open plan kitchen, living space and hallway along with a double bedroom and a bathroom. They also have built-in storage and enjoy a private balcony, allowing additional light and ventilation, whilst there is a communal ground floor buggy storage area. The apartments are designed to be flexible to increasing levels of care which residents may require with plenty of space for wheelchair turning and other aids, whilst the layout is designed in line with the latest thinking on dementia care.
Externally, the three storey building reduces in height to two storeys at each end of the linear format to reduce both mass and the potential to overshadow adjacent dwellings whilst the pitched roof has been embellished with the use of feature gables. In addition, elevations have been broken up visually through the use of contrasting materials, which also helps the building sit in sensitively with its setting.
The design includes a 'living wall' on the terrace as a landscaping and biodiversity feature, and the facade and fencing have been acoustically designed to minimise any noise impacts from the ambulance station and car park. There is also garden space around the building with a garden path that winds around the building through lawns and shrub planting with multiple opportunities to sit and enjoy the environment in addition to provision for an 'allotment' area for residents, with a greenhouse and storage shed.
Sea Island Developments' Managing Director, Mark Walton, added, "We're really pleased that planning permission has been granted for this development, as it has the potential to massively improve quality of life, and that is ultimately why we do what we do.
"Working closely with North Tyneside Council's social care commissioners to specify and design the building has produced a collaborative approach which gives confidence to everyone involved, that the scheme will provide a genuine alternative to residential care and that people will want to live here for years to come."