22 May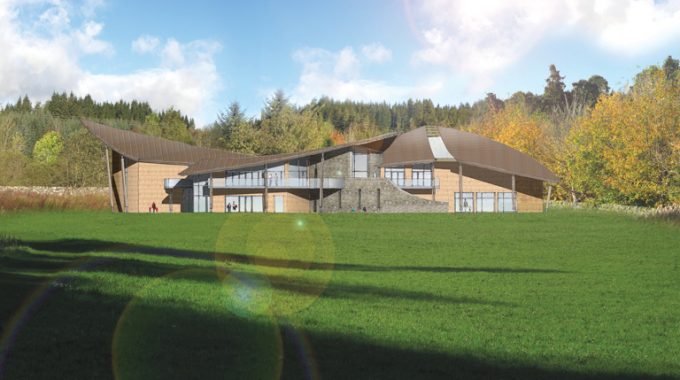 Planning Approval for Calvert Trust Development at Kielder
We have received planning permission from Northumberland County Council on behalf of the Calvert Trust, a UK charity which encourages disabled people to enjoy outdoor adventures, for an ambitious redevelopment of its 40 acre woodland facility in the spectacular Kielder Water & Forest Park.
The £10m scheme is aimed at promoting inclusion between disabled and able bodied visitors to the site with remodelling of the existing activity centre to include a new visitor centre, with a state of the art climbing hall, caving system, bouldering wall, a café, offices, a games hall, a woodchip biomass district heating system and landscaping, outdoor activities, including a high ropes walk way and the necessary infrastructure works.
It also includes plans for fifteen new fully accessible self-catering cabins to add to the 10 cabins already available, additional car parking and extensive landscaping on the site which is close to Kielder Water, Northern Europe's largest man made lake.
The development will benefit people with a wide range and degree of disability and some of the facilities will be open to the general public. It will also attract families with a disabled parent or child along with their able bodied friends; charitable organisations working with people with disabilities; adults with care needs seeking a break alone; special needs schools and mainstream schools, many of whom have disabled pupils.
Peter Cockerill, Calvert Trust Chief Executive, commented, "Calver Trust Kielder provides people with disabilities the chance to realise their full potential and to break down the barriers that prevent this. We have been providing challenging outdoor activities for people of all abilities for more than 25 years and these exciting new plans will lay the foundations for growth over the next 25 years. The project will enable thousands more to benefit from our work and greatly enhance the quality of the of the unique service we offer."
Working in close conjunction with the Kielder Water and Forest Park Development Trust, who see the facility as an important part of their 'Big Picture' vision to become a world class destination, the scheme will also include landscaping by Glen Kemp and the involvement of artists Heather and Ivan Morison, who have been working with the design team from the inception of the project.
Alison Thornton-Sykes, Principal Designer at JDDK, commented, "It's a very exciting project in which the three disciplines of Architecture, Landscape Architecture and Art will interact to produce a stunning environment for the Trust's guests and we see this, hopefully, as just the start of a long relationship which will fulfil the Trust's vision of creating a superb facility."
"Our ideas are exploring the connections between inside and outside with the building linking to a high level ropes course within the forest. The over sailing "leaf" roof forms are inspired by the natural setting and provide protected outdoor areas as well as a striking, iconic form. The topography within the site is very varied rising from the Cranecleugh Burn up to steep hills which gives us a varied and challenging environment to work within. Each of the new lodges will have their own unique landscaped setting and cater for a range of small groups whilst the visitor centre will incorporate facilities for both able bodied and disabled visitors."