01 Dec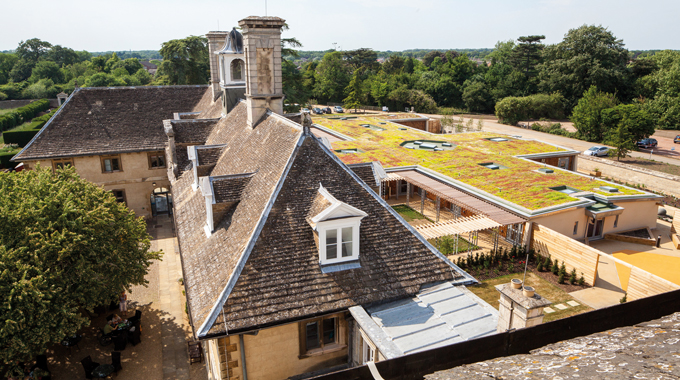 LABC Success for Newcastle Architects' Hospice Project
A hospice project designed by the award-winning Newcastle architectural practice, JDDK Architecture, has won a prestigious LABC Building Excellence Award as the Best Inclusive Building at the Grand Final Awards held in London on Monday 28 November.
A panel of industry experts judged a list of the highest quality projects from around England and Wales to reward the best in technical innovation, sustainability and design. Grade I listed Thorpe Hall remains one of the best-preserved Cromwellian mansions in England. Rescued from dereliction by Lady Sue Ryder in 1986 it has since been a hospice at the heart of Peterborough's community.
LABC Chief Executive Paul Everall said: "This hugely successful project has enabled Thorpe Hall Hospice to continue to deliver the highest levels of palliative care. That the project was nominated for this award by the building control team further demonstrates how a positive working relationship with local authority building control teams is vital to achieving a high quality, sustainable building."
The £6m refurbishment of the Sue Ryder Hospice at Thorpe Hall, a Grade I listed country house set within a Grade II listed landscape on the western edge of Peterborough, involved the construction of a 20 bed ward, set in the old kitchen garden of the country house – one the finest buildings in the east of England with both historical and architectural uniqueness. The building's design includes a timber structural  frame, cedar shingle wall cladding, sedum roof covering, high levels of thermal insulation together with the use of a ground source heat pump.
The sensitive setting required the JDDK team to begin extensive discussions with English Heritage and Peterborough City Council in 2010 which culminated in the successful planning application of 2011. The design proposals were deliberately low impact in response to the planning restrictions and proposed a single storey timber framed structure containing 20 ground floor rooms with en-suite facilities and large individual patio doors allowing patients' beds to be easily wheeled out into the landscaped gardens – a feature that particularly impressed the judges.. This contemporary and low impact structure also featured a full sedum roof to merge in with the gardens when viewed from the adjacent Hall, timber clad walls, high levels of thermal insulation together with use of ground source heat pump and was fabricated off-site to minimise disruption to the normal running of the hospice.
Hospice Director, Jane Petit, commented, "We are delighted our hospice inpatient unit building and all those instrumental in its design have won this national award. There were many unique challenges involved in creating a 20 bed modern hospice in the grounds of a grade 1 listed 17th century mansion house but those were met and exceeded by the team. We now have a building of which we are very proud, which supports the incredible care we provide and that is designed to work with us for the benefit of patients and their families."
JDDK Director, Adam Vaughan, commented, "We're all naturally delighted to have had recognition for this project. A Grade I listed country house within a listed landscape is a very sensitive setting to work, but this single storey design not only answers the client brief but also importantly satisfied the various conditions agreed by English Heritage and Peterborough City Council."
The provision of palliative care facilities is a speciality of the practice with recent projects including St Oswalds in Newcastle, Highland Hospice in Inverness, St Columba's in Edinburgh, St Gemma's in Leeds, Marie Curie hospices in Glasgow and Solihull, and St Patrick's University Hospital in Cork.