15 Nov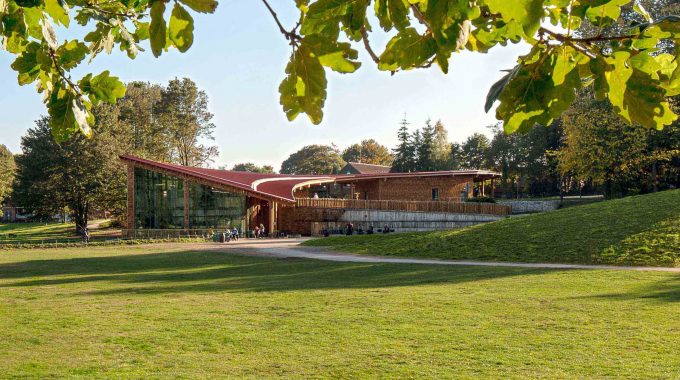 LABC DOUBLE SUCCESS FOR JDDK ARCHITECTS
Newcastle-based JDDK Architects Ltd were double winners at the prestigious national LABC (Local Authority Building Control) Building Excellence Awards held on Friday in London.
JDDK and the Building Control Department of Sunderland City Council won the Best Partnership with a local authority building control team for their work together on a number of projects including the RSPB Sherwood Forest Visitor Centre in Nottinghamshire which also won the best Small Commercial Project 2019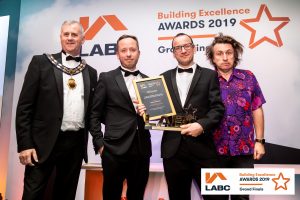 The Sherwood Forest Visitor Centre opened in November 2018 and is a 558sq metre split level structure designed to lead visitors into Sherwood Forest as JDDK Principal Architect, Alison Thornton-Sykes, explained,  "One of the main features of the Centre is its curved, twisted form, created by staggered roof beams, which reflect the forest environment and the "Trees that sheltered him" concept of Robin Hood. There are several different elements to this from creating an initial welcoming area for visitors with toilets, retail and recreation facilities to creating wilderness zones to give visitors a real sense of the ancient forest environment. Indeed, one of the most popular attractions of the whole area is the magnificent Major Oak, the approximately 1,000 year old oak tree where the Merry Men outlaw band supposedly slept."
The linear format pulls visitors through and down the 5m level change into the double height café space and out to the exterior amphitheatre sheltered by the overhanging canopy, an integral part of the roof. The building has been designed to achieve a BREEAM Very Good rating with an Air Source Heat Pump heating the building combined with the natural solar gain from the full height glazing to the Forest facing gable end.
The Building Control partnership, which originally began in 2002, has grown in the intervening years to the benefit of both organisations and JDDK's clients as Alison continued, "We've built up a great relationship with Sunderland's Building Control team and use their services on our projects nationwide. We're guaranteed a fast response to our queries and they have a very pro-active approach to Building Control matters. By working closely together on diverse projects over the years, we understand the way each other work and can carry successful outcomes from one project to the next."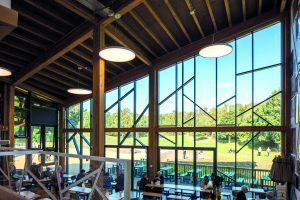 "It's a very constructive relationship from which our clients also benefit in that it helps us to deliver design proposals which are imaginative, efficient, affordable, buildable and above all work well. I think the key is the actual citation on the award certificate which states, "For building excellence in the delivery of outstanding construction and workmanship". We understand construction, we believe firmly in the "craft" of detailing and the positive impact this can have on the quality of our built environment and we are extremely proud of the technical expertise within JDDK Architects, which makes this award particularly special. We look forward to working with the Sunderland Building Control Team for many years in the future."
Ross Frazer, RSPB Project Manager for the Sherwood Forest Visitor Centre, added, "From the outset, JDDK had a fantastic understanding of our vision for the new centre and delivered a building befitting of this iconic setting. We're thrilled to win another award."