25 Mar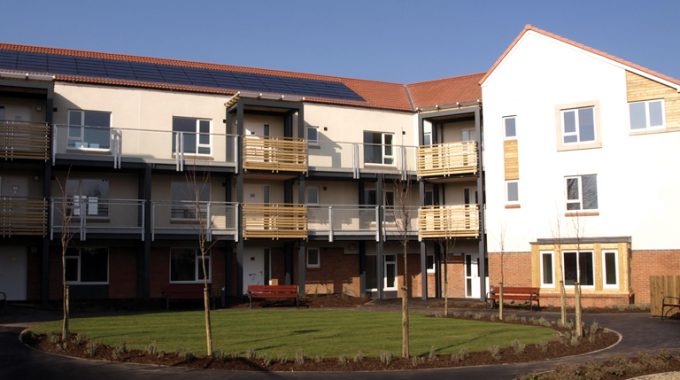 Jubilee Court Offers New Start for Young Families
The first tenants are set to move into Jubilee Court, Your Homes Newcastle's (YHN) first supported housing scheme for vulnerable young families in Newcastle.
The Jubilee Court development, situated on a brownfield site at the junction of Jubilee Road and Kenton Lane in Fawdon, has been developed by Frank Haslam Milan (FHM) and designed by Newcastle-based architects, Jane Darbyshire & David Kendall (JDDK) Ltd, in response to YHN's brief for a scheme which would offer a mix of apartments and houses for three and four person groups of young families. Although the housing units are independent, the development also offers communal facilities of a crèche, common room and a training kitchen together with offices for staff who offer discrete support for first time mothers and fathers.
Project architect, Adam Vaughan, commented, "The concept behind the development is that young families can live here independently for up to two years in a supported environment with staff available to teach the skills they will require to enable them to bridge between living with their parents and becoming self sufficient."
The £1.9m Jubilee Court development, includes 15, two bedroom apartments and four, two bedroom houses built around a communal, south-facing landscaped and sheltered courtyard. A key feature of the scheme are the balconies overlooking the courtyard which provide both access to several of the apartments and areas where families can interact and integrate as a conscious alternative to long internal and institutional corridors.
Other features include spacious entrance halls to accommodate prams and pushchairs, photo voltaic panels to the apartments roofs and solar thermal panels for water heating to the roofs of the houses. The main timber frame building has already achieved a BREAM rating of very good, whilst the houses are all built to Level Three of the Code for Sustainable Homes.
John Lee, chief executive at YHN, said: "This is a unique development in the North East and we're thrilled that young families are now beginning to move into the homes. We're looking forward to working with the tenants, through finance workshops and personal development programmes in the communal facility and helping them get to a stage where they can lead their lives happily without support."
Mark Connor, Operations Manager at FHM North East, said: "We are very proud to have developed Jubilee Court on behalf of Your Homes Newcastle, providing excellent new homes for young families in the City."
"There is a need to provide dedicated supported housing for young families who have low level support needs and I hope this scheme will now meet their requirements and aspirations."
The Jubilee Court development is the first of three supported housing schemes that JDDK as architects and FHM as contractor are due to deliver this year as part of a framework agreement with YHN. In Walker a scheme just off the Fossway for adults with learning disabilities is due to complete later in March, whilst a similar development on Napier Street in Shieldfield has just started on site.