19 Sep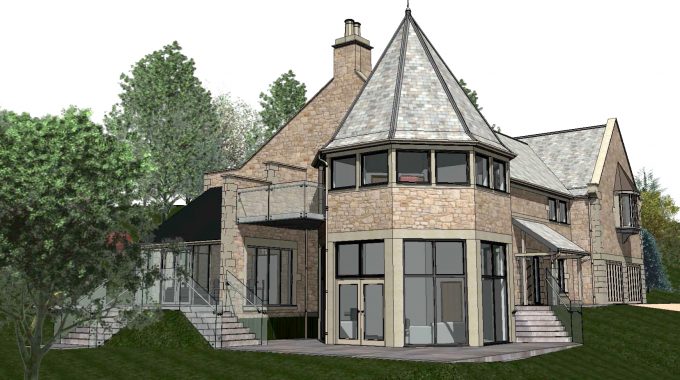 JDDK PLANNING APPLICATION FOR FULBECK LUXURY HOME
Newcastle-based architects, JDDK Ltd, have applied to Northumberland County Council for planning permission on behalf of a private client for a striking four bedroom detached home at 1 The Dell. in the Fulbeck area of Morpeth.
The two storey design, to be constructed on the site of an existing 1970's detached property, will provide its owners with an iconic home set in mature woodland but enjoying superb views to the South over Morpeth. JDDK Project Architect, Alison Thornton-Sykes, explained the design, "All the plots here feature individual designs with a range of 1970's styles and materials, and our application is a response to the gentle slope of the site with the home oriented to take maximum advantage of natural sunlight and the outstanding views through the woodland."
The design is dominated by the octagonal two storey corner 'Dovecote' structure on which the remainder of the house pivots and which provides a stunning extra height lounge with the master bedroom above it also enjoying a private balcony. A double height entrance hall is overlooked by a minstrel gallery to the first floor, off which the four bedrooms and family bathroom are accessed. The ground floor includes an integral double garage with workshop area, home office, open plan kitchen and a separate sunroom/dining area.
The design proposes traditional stone construction with a slate roof apart from the sun lounge/dining area which will feature a zinc roof.
Alison continued, "These are very private homes set in their own landscaped gardens and our design retains all the existing mature trees. The Dovecote is actually based on a feature in one of our private house schemes from 2008 which our client, Ian Askew, had seen near Corbridge and wished to incorporate a similar idea into this own home. It is the focal point of the design from which the rest of the house flows."
Ian Askew added, "Alison and the team at JDDK did a wonderful job in translating our outline vision into a stunning home design that compliments the beautiful natural setting of the Dell."