05 Aug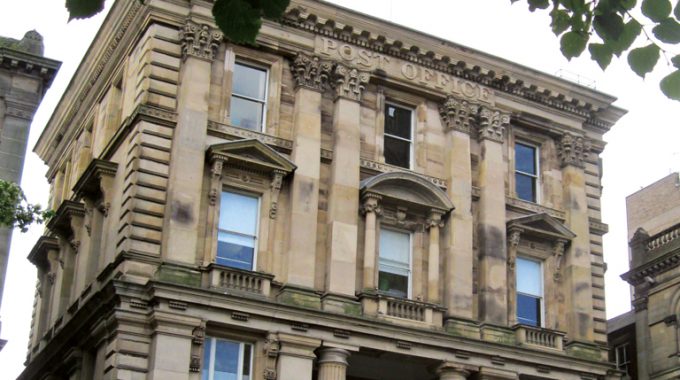 JDDK Chosen for by RIBA for Post Office Redevelopment
The Newcastle-based architectural practice of Jane Darbyshire and David Kendall (JDDK) Ltd have been chosen to undertake the major expansion of RIBA Enterprises' (RIBAE) premises in central Newcastle.
Following a competition run by the RIBA Competitions office and an interview with a panel which included RIBA President Stephen Hodder, the practice was chosen from a shortlist of six firms to design and manage the refurbishment of the former central Post Office in the centre of the City.
The project, which is due for completion in June 2015 will see the space occupied by RIBA Enterprises expand from 18,000 to 26,000 square feet through a combination of refurbishment, extension and some new building. In addition to offices for RIBA Enterprises, which currently employs 250 people of which 180 are based in Newcastle, the vision for the development includes the creation of an architecture gallery and other facilities to host industry and public events, such as a lecture theatre and social areas.
Commenting on the appointment, RIBA Enterprises' Chief Executive, Richard Waterhouse, said, "It was a great process and I'm absolutely delighted with the result. It was a difficult decision as we had six excellent practices on the shortlist, but JDDK fulfilled all of our requirements. The firm combines the expertise to deal with the conservation issues around the listed building, with the skill to integrate our technological brief. Above all we were hugely impressed with the team's approach to engagement with colleagues at all levels of the business."
RIBA Enterprises' vision is that the project will be a teaching and learning exercise for the industry as a whole and an exemplar in the use of Building Information Modelling (BIM) as Richard Waterhouse continued, " Our aim is not just to get a great building that will inspire customers, colleagues and the local community, but to develop a case study of the process involved that will be of use to the industry. At every stage, we will be interviewing those involved – consultants, suppliers, subcontractors, those within the client body – and will be looking honestly at what has gone well and what could have been done better. This reflects the mission of RIBA Enterprises to help construction industry professionals do their jobs better through the services, products and information we provide."
Ian Clarke, JDDK Director, added, "We are delighted to have won this prestigious commission in conjuction with Ward Robinson as Interior Designers, BDN as Engineers and SDS as Building Services Consultants and are looking forward to working with RIBA Enterprises to help realise their ambitions for their headquarters. The project offers the great contrast of a heritage city centre site in Newcastle and a very ambitious and forward-looking brief – a combination we find very exciting."