02 Jan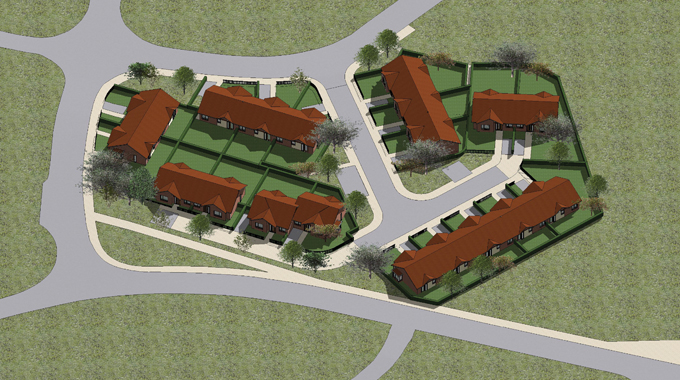 Houghton Bungalows Designed to Adapt to Changing Needs
Construction work has begun at Houghton Le Spring on an innovative housing scheme designed especially for older residents.
Durham Aged Mineworkers' Homes Association (DAMHA) is working with its development partner, Karbon Homes, to build 19, two bedroom bungalows on Abbey Drive overlooking Sunniside Methodist Church in a £2.7m scheme the design of which is by award-winning Newcastle architects, JDDK Ltd.
Established in 1898, DAMHA is the largest almshouse charity in the country with over 1,700 homes for residents over 50 years old across the NE region, many of whom have mobility problems. The Association was recently highly praised by the Homes & Communities Agency for both its governance and the high quality of the affordable homes it provides.
The layout of the Abbey Drive scheme has been orientated to give residents both security, with gable bay windows overlooking footpaths, and a 'green' feel with generous landscaping. Each bungalow enjoys its own private garden and dedicated parking bay in addition to areas of common amenity space.
It is, however, also the internal layouts that will prove attractive to residents, as JDDK Director and Project Architect, Mura Mullan, explained, "The bungalows are designed in line with The Lifetime Homes Guide and are laid out to provide two bedrooms with generous kitchen and living spaces but can be adapted to meet potentially changing needs, offering the scope for people to remain in their homes for as long as possible, thereby reducing the pressure on health and social care systems."
The initial layout has two bedrooms, one for visitors which can also assist in the event of the resident requiring additional space for mobility aids etc. All bathrooms have both a wetroom/shower area and a bath, that gives residents the choice to use whichever they prefer.
DAMHA Chief Executive, Paul Mullis, added, "We currently already have 11 affordable housing schemes within the Sunderland area, totalling 156 homes, and very much look forward to continue working with Sunderland City Council to provide sustainable and affordable accommodation in the area, and help to meet both the current and future needs of its residents."
"The site on Abbey Drive gives us a fantastic opportunity to provide high quality bungalows for which there is a strong demand in this area of Houghton Le Spring whilst the innovative design will create homes for life for the residents."
Construction of the 19 bungalows, managed by Karbon Homes, is expected to take some 10 months with the first homes becoming available in November 2018. Further details are available from DAMHA at www.durhamhomes.org.uk or telephone 0800 0432642.