11 Nov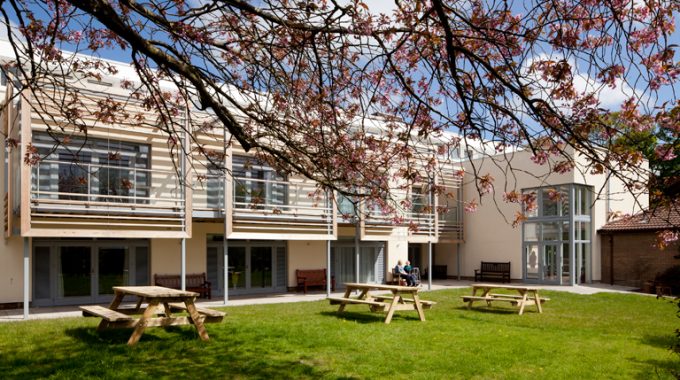 Healthcare Commendation for JDDK
Design work by Newcastle-based architects, Jane Darbyshire & David Kendall (JDDK) Ltd has been highly commended at the national Building Better Healthcare (BBH) Awards held on November 6 in London.
The practice's work at the Marie Curie Hospice in Edinburgh was highly commended in the 'Best Use of Existing Estate' category which recognises projects which improve existing buildings to deliver modern healthcare services.
Described by the judges as 'forward-thinking', the project involved the redevelopment of a 1970s building originally used as a care home. Within the £2.3m budget, the project extended six of the 15 bedrooms, a mix of single, double and triple rooms, whilst providing balconies to the first floor rooms, screened by brise soleil  panels for sunlight control, and provided a new lift shaft to the side of the building. The main entrance area was transformed into a more welcoming two storey foyer space which now forms a central hub to the whole hospice with a link to the Day Services Unit.
The scheme developed an innovative way of introducing en-suite accommodation to all ward rooms as well as improving the spatial standards around each patient bed. This was achieved through the addition of a south-facing extension to the existing facade, increasing the internal area and facilitating the addition of en-suite pods to the patient bedrooms.
JDDK Project Architect, Stuart Franklin who also oversaw construction work designed to breathe new life into the 1970's hospice commented, "The Edinburgh project ran concurrently with a similar refurbishment scheme of ours at their Penarth Hospice and a £13m new build hospice at Solihull. While perhaps humble in comparison to bigger developments, Marie Curie Hospice Edinburgh has set a benchmark within Marie Curie with regard to breathing new life into existing estates stock, setting a high standard for similar future developments."
The BBH judges, added: "We particularly liked the window bays. This work has very much improved patient accommodation and they have futureproofed it well as the rooms are adaptable depending on future needs. The balconies are lovely and, as an
add-on, it is very, very nice."