11 Jul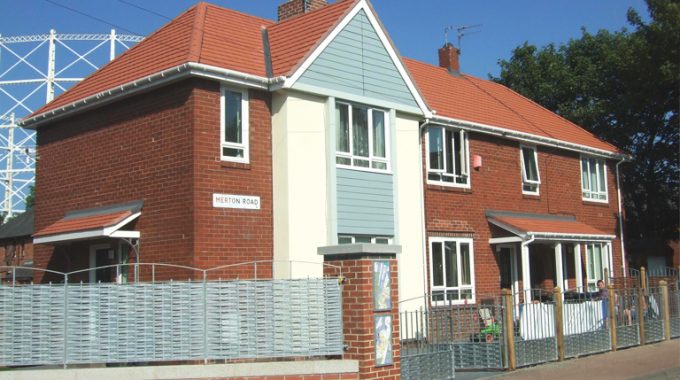 External Refurbishments Revitalise Estate
Contractors, Frank Haslam Milan (FHM) have completed a £1.4m regeneration scheme on the Pottery Bank Estate in Walker as part of a framework agreement with Newcastle-based architects, Jane Darbyshire & David Kendall (JDDK) Ltd and their client, Your Homes Newcastle.
Commencing in November 2010, the project was officially handed back to YHN with external refurbishments to 56 homes on the estate matched by environmental works consisting of soft and hard landscaping which has produced a real sense of identity for the tenants. Community involvement has included an extensive consultation scheme and tenant participation in the public art programme, funded by Bridging NewcastleGateshead which has seen ceramic artist, Susheila Jamieson, working with the tenants to produce ceramic panels on street corners.
The JDDK scheme introduced new doors and windows to Decent Homes standards to the properties whilst also adding projecting bay windows and render to feature gable elevations. New porches over front doors, bin screens and galvanized steel fencing have totally regenerated the appearance of the properties whilst corner plots have benefitted from new soft landscaping.
JDDK Director, David Kendall, commented, "The scheme shows how a relatively small budget spread over a considerable number of properties can totally transform a neighbourhood and restore the sense of pride and identity which is so vital for the tenants.".
"The brief from YHN was for improvement works which were different from those completed on other estates in the area, so the external works have been designed to give the estate its own identity. The brief suggested potential improvement options such as creating a sense of place, providing secure car parking areas, defining boundary walls and front gardens, and improving the properties themselves."
"Many of the tenants wanted minimal soft landscaping with maximum car parking areas so the compromise has been to keep one area of low maintenance planting on every property and use permeable paving on the drives to reduce surface water run-off rates which place such a strain on the drainage systems. Feedback from the tenants has been very positive so far and they've really become involved with creating the public art elements"
Keith McDougall, Construction Director at FHM North East, said: "Over the years, we have formed a very successful partnership with JDDK and are delighted to be working together to deliver the improvements that residents in Pottery Bank have requested."