12 Sep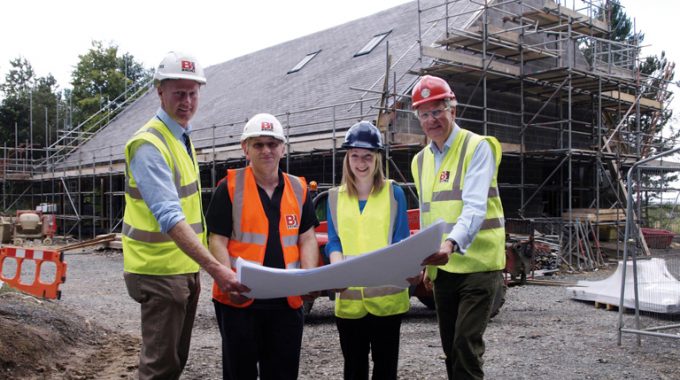 Expansion for Chainsaw Specialist
A £450,000 investment in a new build commercial premises by Blagdon Estate at their Milkhope Centre will be home to a state-of-the-art chainsaw retail and repair centre as Gustharts Chainsaw Centre relocate.
For Proprietor, Rob Gusthart, one of four family partners, the move is the latest stage in a story of continual growth since the business began trading in 1985 as one of the first tenants at the Milkhope Centre, as he explained, "We've been very fortunate in steadily growing despite current economic conditions and have continually invested profits back into the business so that we're now the region's main dealer for premier brands such as Stihl chainsaws and Viking gardening equipment."
"We're also fortunate in that we enjoy a very good relationship with our landlords, Blagdon Estate, and approached them last year with a request for larger premises due to the increased business from traditional trade and general public customers and the additional trade our website was bringing in. Like any other online trader, we need large amounts of stock to supply our customers' requirements and were rapidly running out of space due to the success of the website. The new unit will become a showcase for Stihl products and a model for similar centres in other parts of the country."
Construction work by main contractors, Brims, is scheduled to be complete by mid October, with an additional shop-fitting programme in Stihl branding finishing in time for an official December opening.
Designed by Newcastle-based architects, Jane Darbyshire & David Kendall (JDDK) Ltd, the new facility combines a steel frame and block construction with traditional rural design to sit comfortably with the existing retail units, themselves conversions of farm buildings. Project Architect, Clair Mawston, commented, "The old unit was some 2,500 sq ft, whilst this new building will be 3,500 sq ft on the ground floor with an additional 2,000 sq ft of storage space on the first floor. The SE corner includes a large amount of fenestration for the display and retail area, and the design includes additional features which Rob Gusthart wanted, such as an internal window from the retail area into the workshop which allows visitors to see the quality of the workmanship."
"Our joint challenge was to blend traditional elements with contemporary features to create a building which sits well within the existing context. The use of the roof space as a storage area allows us to maximise the available floor space whilst keeping the overall form of the building low in line with the surrounding structures."
Mark Wood, Blagdon Estate's Agent added, "We've worked with JDDK for many years and are always impressed by the way their designs provide for quite complex demands for internal space but still seem to be very natural in their external appearance. Rob's company has been one of our anchor tenants at the Milkhope Centre and we're delighted to have been able to accommodate their requirements for additional space with this superb building. The Centre itself is doing very well with all the units occupied and we already have several enquiries for the original Gustharts unit."