07 Sep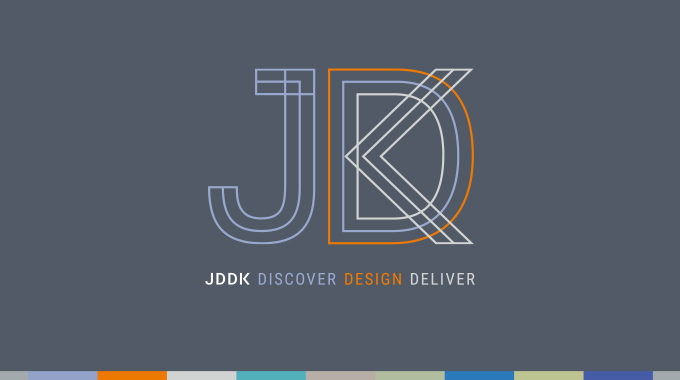 Evolution Not Revolution – JDDK Rebrands
Award-winning architectural practice Jane Darbyshire and David Kendall (JDDK) Ltd have rebranded to JDDK Architects with the launch of a new website which was officially launched on September 7.
JDDK Director, Nicky Watson, explained the rationale behind the rebrand, "For almost 30 years the practice's reputation has been built on quality of design and service, with a passion and keen eye for the craftsmanship of construction. Those aspects of the practice remain as important to us and our clients as ever. However, times change and the range of work we undertake and the buildings that we design today were not being represented by the old brand. Whilst we all felt deeply attached to the existing brand, we also knew it was no longer a true reflection of the practice in 2016 and beyond."
"For a while we had also been aware that our website needed updating (it had been designed back in 2008) and in fact the discussions began back in 2015 when, together with our marketing agency, Silver Bullet Marketing, we began talking about a new website design. We knew that the website needed to better represent who we are and the work we do today, as well as be responsive to different forms of viewing devices. However rather than jump straight into the design of a new brand and new website we decided to inform the process by first reviewing how we perceive ourselves, how we communicate and work with our clients and partners, what they see as our strengths and weaknesses and what are their priorities for an excellent service."
In discussions with their marketing agency, Silver Bullet Marketing, JDDK commissioned Papyrus Research for professional market research who interviewed all the JDDK personnel and a selection of their clients and contacts to discover how both groups felt about the practice's service and brand. The results were discussed and analysed in great detail and were vital in developing a forward looking business strategy for JDDK. The analysis also highlighted the importance in reviewing how the practice projected who they were and what we do and was incredibly useful in contributing to a detailed brief for Silver Bullet who went on to create the new brand for the practice.
Nicky Watson continued, "Earlier this year, the agency presented their design work to us which included not only the new logo but also how this would transfer to our new, fully responsive website, the new look newsletter and all our presentation material. We were delighted – the new brand met our design brief brilliantly and most importantly because we had undertaken the market research at the outset it was evidence-based design, just as much of our work is."
"Many of us at JDDK have been here for all or much of our professional careers and have been "brought up" with the diamond logo that our new graphic design replaces, so the decision to change was not taken lightly. The new design, whilst still being a monogram, is fresh and contemporary and does a great job of representing our current work and our personality as a practice – the process has been one of evolution rather than revolution which feels just right to us"
John Dias of Silver Bullet Marketing, added, "From a marketing view, this was almost a text book case of why and how to re-brand – the initial doubts leading to robust market research which formulated a fairly precise brief to ourselves of what was required. The resulting designs were presented and amended and the end result is a brand reflecting the practice's heritage, present and future work."
Soo Darcy of Papyrus Research, commented, "The entire team at JDDK and all clients who contributed to the research were a pleasure to work with. We met with the team at the outset of the project to ensure we fully understood their aims for the research and for the practice, and addressed any questions or concerns. From this we developed a '360 degree' methodology, listening to the views of staff, clients and other partners. Their candid feedback gave us a lot to work with in terms of informing JDDK's ongoing strategy and providing the building blocks on which to create a brief for Silver Bullet Marketing's design team. It is a real delight for any researcher to see a firm engage so readily with the research process and use the results to benefit the practice for years to come – JDDK has done just that."