03 Nov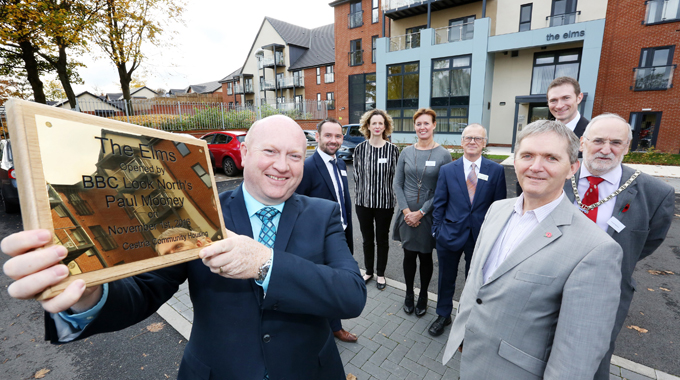 Bright Outlook for The Elms
Paul Mooney, BBC's popular Look North weatherman performed the honours on Tuesday 1 November with the official opening of The Elms, Cestria Housing's new specialist housing development for the over 55's in Chester-le-Street.
Widely praised as an example of best practice in its field, our £6.5m scheme consists of 52 apartments and six bungalows, for rent, sale and shared ownership, all designed specifically for people aged 55 and over who require support with their care or housing, The Elms was designed in response to the recommendations set out in the government's 2009 HAPPI (Housing our Ageing Population: Panel for Innovation) Report, which aims to encourage a healthy and active lifestyle for people aged 55 and over.
JDDK Director and Project Architect, Mura Mullan, explained, "The HAPPI Report in essence set out 10 basic design principles for housing for aged persons which we've been able to incorporate in The Elms. The scheme includes elements of flexibility for residents in anticipation of their needs changing over time. The internal layouts therefore take into account the differing levels of dependency the residents will encounter and are flexible enough for people to stay in their homes for as long as possible."
Area Manager at the Homes and Communities Agency, Karen Anderson, said, "The Elms is an amazing scheme which offers independent living for the over 55s through affordable rent, shared ownership and market sales. It was deservedly recognised in the recent Inside Housing list of best schemes in the country and I am really pleased that we were able to invest £1.85m in 44 of the 58 homes. The landscaped setting, providing a café, hair salon, treatment room and other facilities, helps to tackle isolation and attract the local community to visit the scheme."
Unveiling a commemorative plaque to mark the occasion, Paul Mooney said, "My congratulations to everyone who has made The Elms possible; there must be a great sense of achievement to be part of something like this. My congratulations to the residents, too – I hope you have many happy years in your new homes, enjoying being part of the great community here."
Declaring The Elms officially open, BBC Look North presenter Paul Mooney (left) is pictured with (foreground right) chief executive designate of the Isos Housing Group, Paul Fiddaman, and (background, from left) area director for Keepmoat in the North-East, Lee Francis, Mura Mullan of JDDK architects, Homes and Communities Agency area manager, Karen Anderson, chairman of Cestria Community Housing, David Butler, Cestria's managing director Martin Warhurst and vice-chairman of Durham County Council, Coun. Mike Dixon.