19 Aug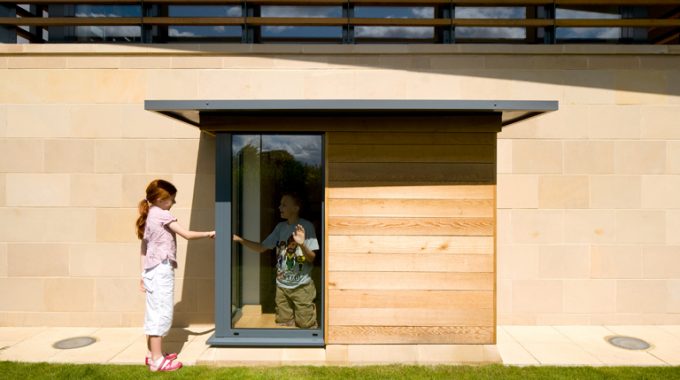 Big Ideas for Little People Wins Green Award
Barnard Castle's new Children's Centre has won the Built Environment category in the County Durham Environment Awards held on Monday October 10th in Durham.
Funded by the third and final phase of the Governments' Sure Start Development fund, which ended in March this year, and designed by award-winning Newcastle-based architects, Jane Darbyshire & David Kendall (JDDK) Ltd, the single storey building cost under £500,000 with the sustainable design producing light filled and naturally ventilated spaces.
The scheme was one of five centres prioritised by Durham County Council to ensure the funding was put to its most cost-effective use as Paula Rae, Extended Services Manager, Durham County Council, explained the rationale behind the projects, "We were crucially aware that this was the last chance for us to access this stream of  funding and were determined that the limited funds available would give the maximum benefit to the people of Durham. We therefore prioritised five existing centres, which we had identified as no longer fit for purpose and briefed the architects with our aims."
Whilst the schemes at Sherburn, Wheatley Hill, Stanley and Pelton involved refurbishment of and extensions to existing centres, it was felt that demolition of the converted bungalow previously being used for outreach support in Barnard Castle and its replacement by a purpose built facility would be more cost effective. Located adjacent to Clare House on a highly prominent site within the town, the resultant building is a contemporary structure yet contextually in keeping with its surroundings.
JDDK Project Architect, Stuart Franklin, commented, "Working very closely with the Planning Authorities, partly due to the site's prominent location, we've created a low level sustainable building with a sedum roof and clear-storey glazing which allows a huge amount of natural light in but is shaded by cedar brise soleil panels to prevent overheating. Inside we have approximately 150 square metres of space which can be subdivided into different configurations but includes an adult training room, crèche area, reception, office and toilets."
One feature which has already attracted a great deal of positive attention from adults and children alike are the 'creeps'  for small children which jut out of the building like mini bay windows. Based on the Reggio Emilia Approach of creating spaces for babies' and children's exploration, stimulation and wellbeing, these are child-sized protrusions into which children can go and inhabit as their own.
Stuart Franklin concluded, "Projects like the Sure Start Children's Centres, although relatively small in size, really do show the benefits of close consultation with both our clients and the end users to ensure we understand exactly what is required of the building and can then come back with a design that not only exceeds their expectations, but incorporates looking after the smallest details."