11 May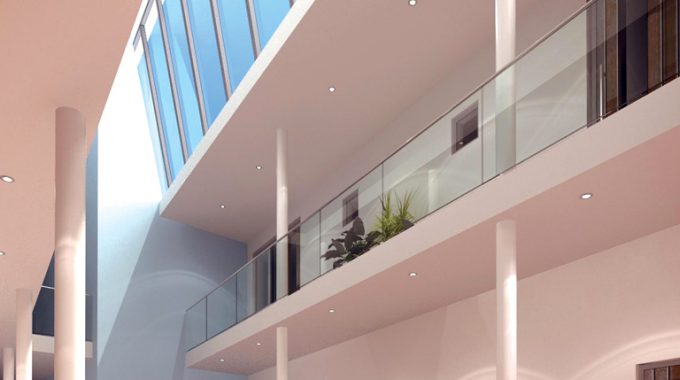 Atrium Proposal Offers New Life for Holborn House
In February, we submitted the refurbishment of Holborn House in South Shields for planning permission on behalf of Isos Housing.
Dating from the late 19th Century, Holburn House was purchased from the St Vincent de Paul charity by Isos Group member NomadE5 in 1984. On the ground floor the building housed a residential care scheme known as St Antony Clarets, with the upper two floors providing housing to a vulnerable section of South Tyneside within the Mill Dam conservation area. The basement of the building is let to the Mission To Seafarers.
In March 2010, Isos, fearing the building was no longer fit for purpose, issued a brief to five architectural practices requesting tenders and designs for the building's regeneration. The brief called for a radical redesign that could provide modern flexible living with access to all – "an inspirational environment that is equal to any purpose-built new build product whilst at the same time retaining the unique quality of the existing building and it setting."
The resultant successful design from JDDK proposes the creation of a central atrium space which provides communal space for gathering and an internal 'street' with a roof light that will bring daylight and sunlight into the heart of the building.
The apartments are positioned around the perimeter of the building, where the fenestration pattern of the Victorian building is retained, but where window sizes in the newer elements of the building are proposed to be increased in order to maximise the amount of daylight entering the living spaces. Daylight from the central atrium is also brought into the individual apartments through obscured glazing to bathrooms and windows to kitchens, adding to the sense of street that the atrium and balconies provide.
Automatically opening vents provide natural ventilation whilst the creation of a roof garden on the second floor provides an outdoor space that can be enjoyed by all residents and which supplements the internal communal space.
Mura Mullan, Project Architect commented, "It was a very challenging but hugely interesting brief and we're obviously delighted to have been chosen by Isos for this project. In essence the scheme will provide 26  new apartments, 21 of which are single bed living spaces  with four being two bed apartments and one a wheelchair accessible apartment."
Michael Farr, Development Director, Delivery for Isos, commented, We are very excited about the potential of this project. JDDK have come up with an imaginative concept to remodel the building, which will transform what was quite a dark and unwelcoming environment so that it provides homes fit for the 21st century.