10 Jul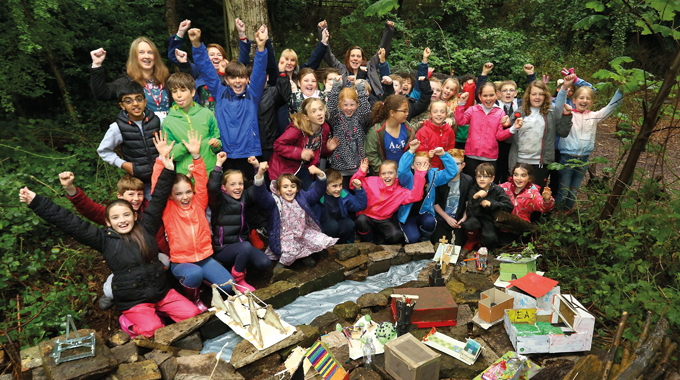 Architecture Ambassador Role for JDDK
Newcastle-based architects, JDDK Ltd, have been inspiring pupils and giving them an insight into the world of architecture at St Teresa's School in Heaton through the Royal Institute of British Architects (RIBA) Architecture Ambassadors programme.
Designed to inspire a passion for architecture in the next generation, the programme has involved JDDK's Principal Architect, Alison Thornton-Sykes, with fellow architect Sam Dixon linking with the school to talk about their work in a special workshop on Linking Structures and set the Year 5 pupils a brief to create their own structure which would link aspects of the natural or built environment.
The programme has also involved various out-of-school visits to both their forest school and The Sill, Northumberland National Park Authority's new National Landscape Discovery Centre at Once Brewed in Northumberland, which opens to the public on July 29.
RIBA's Architecture Ambassadors scheme supports creative partnerships between RIBA members, teachers and young people to deliver creative, hands-on learning experiences in classrooms across the country. Thanks to funding from Rogers Stirk Harbour & Partners, the RIBA National Schools Programme has engaged more than 4,000 school children in England since September 2015.
Alison explained the project, "It's as much about inspiring children to think about their built and natural environment as it is about promoting architecture as a career. In the workshop we explain what an architect does and illustrated this with two of our current projects, The Sill in Northumberland and the RSPB-led partnership's Sherwood Forest Visitor Centre which is due to open next year. Both projects are intimately linked with their immediate environments – the trees of Sherwood Forest and the Whin Sill landscape of The Sill – so they are great examples of linking structures."
"But what we really want to see is how the children view linking structures, whether this is their local Heaton Park, their own Forest School, or further afield and their projects certainly didn't disappoint showing incredible imagination and real skills – they were terrific!"
St Teresa's Acting Head Teacher, Sheila Jackson, added, "The programme was a great success which really inspired our students and fired their imaginations – we're very grateful to both JDDK and the Northumberland National Park Authority for letting us have a sneak preview of The Sill, it's a fantastic building which will be truly amazing."
Whilst the practice's Sherwood Forest Visitor Centre for the RSPB is still in the early phases of construction, The Sill is currently undergoing internal fit-out for the official opening on Saturday 29 July.
The £14.8m National Landscape Discovery Centre, is the result of an innovative partnership between Northumberland National Park, YHA (England & Wales) and the Heritage Lottery Fund (HLF), thanks to money raised by National Lottery players. The Sill will feature fixed and temporary exhibitions focusing on landscape, culture and heritage, several learning and event spaces, a 90 seat café showcasing local produce, world class Youth Hostel facilities, a rural business hub to house and support rural enterprises, a shop packed with local produce, arts and crafts, a tourist information service and a fully accessible Whin Sill grassland roof, the only one of its kind in the world.
Dr. Sarah Glynn, Sill manager at Northumberland National Park Authority, commented: "We were delighted to play a part in JDDK's project with St Teresa's Primary School. We firmly believe that a diverse education programme is crucial to inspire and connect young people with our landscapes and the natural and built environment."
"The Sill will transform the way that young people engage with landscape, both through the free public exhibition and a diverse engagement programme. Our work with schools is at the heart of this and will inspire a new generation of landscape and nature enthusiasts."