04 Dec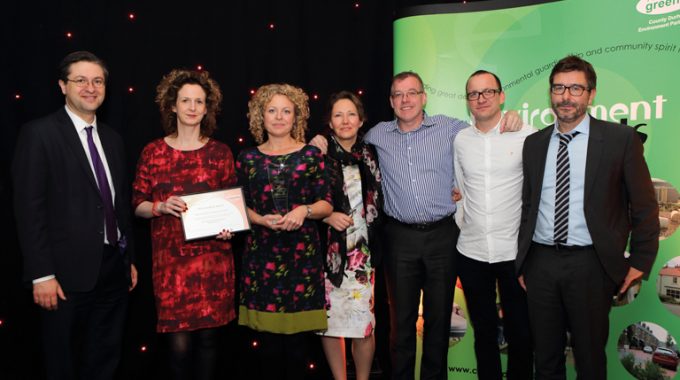 An Outstanding Triple Award Win for JDDK at Durham Environment Awards
Celebrations are in abundance as Newcastle-based architects, Jane Darbyshire & David Kendall (JDDK) Ltd, received two project awards also accompanied with an outstanding award at the County Durham Partnership Environment Awards.
The 26th annual awards ceremony organised by the County Durham Environment Partnership, is to recognise great design, environmental achievement and community spirit. Judges selected 39 projects or individuals to be honoured, with just two projects this year judged as 'outstanding'.
JDDK's state-of-the-art Wear Referrals Veterinary Hospital received awards in the Built Environment and Climate Change categories whilst also judged as outstanding.
The purpose built veterinary referral and emergency hospital is a Centre of Excellence equipped with the latest state-of-the-art facilities for specialist animal care. The high tech building sits discretely in the surrounding rural environment featuring biomass heating and photovoltaic panels for green energy and an integrated landscaping scheme to lessen the building's impact on the surrounding landscape.
The exterior of the award-winning scheme incorporates a sedum roof to one wing reflecting the gently undulating landscape whilst the fragmented building mass reduces the visual scale. This together with integrated landscaping and the use of facing materials, which are in harmony with the setting, allows the new 1,600 sq m structure to have a very low profile from afar, although exceptionally remarkable at close quarters.
Dr Gerard te Lintelo, Wear Referrals Clinical Director and Veterinary Surgeon, commented "JDDK's work stood out above all of the other the architects, no architect in the region had significant experience in designing a veterinary hospital. JDDK was in my opinion the ideal partner for me to have my dream hospital designed."
"JDDK came up with a stunning design, which was combined with multiple eco-friendly features like the green roof and superb insulation. The combination of my vision and JDDK's architectural skills resulted in a truly eye-catching building which seamlessly fits its surrounding landscape. The awards won are a testimony to the hard work and professional skills of JDDK and Wear Referrals."
Nicky Watson, JDDK Director, commented, "We thoroughly enjoyed attending the Durham Environment Awards as it celebrates a variety of projects, which are each significant to County Durham. We are grateful for the opportunity to have worked with a client with such understanding and commitment to high quality, sustainable design principles, and thrilled that these have been recognised by the partnership with these awards."
The Outstanding Award received by JDDK and Wear Referrals recognises those schemes that go above and beyond exemplary status in their respected categories. They set an example of exceptional commitment to high quality design and sustainable development with consideration to the environment and local heritage of County Durham. A special mention was given to the late Ian Clarke, who sadly passed away in the summer. Ian Clarke was a JDDK Director and the project lead responsible for the design of the Wear Referrals Veterinary Hospital scheme.
Nicky Watson commented, "We are delighted the Wear Referrals scheme received an Outstanding Award as well as the special mention and acknowledgement of Ian Clarke, a fitting tribute to his imaginative and attentive work on the project. We are incredibly proud of the whole team who created a development of an exemplary standard that will benefit the community of County Durham."