09 Dec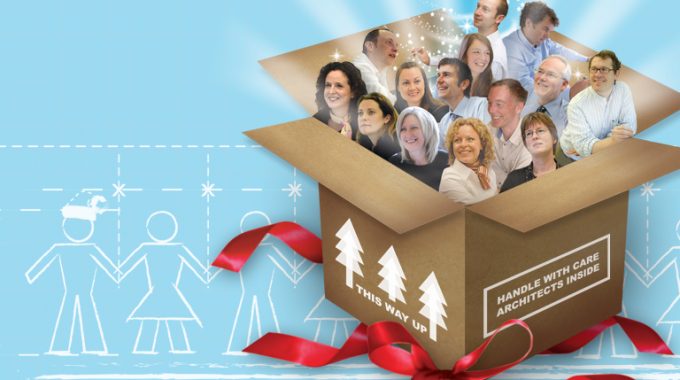 An Architect for Christmas, December 2010
Award-winning Newcastle-based architects, Jane Darbyshire & David Kendall (JDDK) Ltd, are giving charitable, community and voluntary organisations a special Christmas present this year – their own time and architectural services free of charge.
JDDK Director, Nicky Watson, explained the initiative, "For 23 years we have undertaken an awful lot of work from organisations within the "third sector", for example within the hospice movement, for charities such as The Cyrenians as well as for  community and voluntary groups, so we thought this year we would like to give something back. That is why we are offering such organisations the chance to have work done by ourselves free of charge."
"In most previous years we would make a financial donation to charity and send one of our bespoke Christmas cards to our friends and colleagues, which have included models of our projects, Christmas decorations and even grow-your-own wild flower Christmas trees but this year we're giving ourselves, or rather 10 of our working days, away."
"Organisations in this third sector are often in a "Catch 22" situation where they have no available funds to employ consultants until they receive grants from outside bodies, however these funders will often not consider any applications for grants until some initial design or site assessment work has been undertaken.  We hope therefore that by providing some early stage advice free of charge, we will be helping some organisations to get a head start in turning their development plans into reality."
"Our donation will be made up of architectural services, delivered by one of the practice Directors or a senior member of staff and it could be on any architectural challenge including advice on planning applications, suitability of building stock, alterations, extensions, new builds, developing a design brief, DDA issues or advice on historic and listed buildings – it's up to the charity or group as to what they need."
"It is our hope to spread our donation over a number of organisations, particularly to those who would not regularly employ architects or other design or construction professionals, and so we will review all the requests we receive at the end of January, and, if there's more than the 10 days will cover, we'll draw them out of a hat, or if there's less, we'll respond as they come in until we run out of hours."
To apply for the free advice, please contact the practice at millmount@jddk.co.uk enclosing a brief description of the proposed project.