20 Dec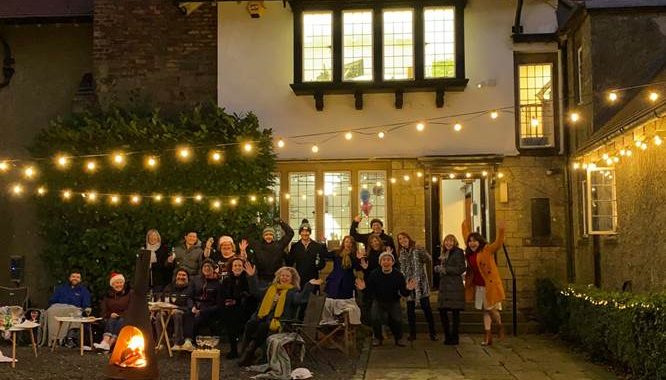 Happy Christmas From Us All!
JDDK Architects wish you all a very Merry Christmas and a Happy New Year!
We have enjoyed a busy 2021 despite the inevitable ups and downs and we are very grateful to all our clients and design team colleagues for making it all possible.
The "JDDK Family" bond is as strong as ever and in 2021 we have been particularly grateful for our roomy home "Millmount" which has given us the space to spread out and keep safe when working there has been allowed. In fact Millmount surpassed itself last week, being the perfect venue for our outdoor Christmas celebrations. After lateral flow tests were negative for everyone in the morning, up went the lights and the outdoor fires were lit. The fabulous Scream for Pizza guys came with their van to cook on site and Tom Proud of Proud To Drink provided the cocktails. A good and safe time was had by all.
This year we are donating to two charities in lieu of sending out Christmas cards. Our chosen charities this year are Dementia UK and Connect 25 Foodbank in Byker.
We wish you all well and very much look forward to working with you all in 2022.
We will be closing the office at lunchtime of Thursday 23rd December and will be re-opening on Tuesday 4th January 2022